Angel
May 11, 2010
Icy wind pummelled me in the face the moment the door flew open, freezing my exposed nose and cheeks. The heavy front door slammed shut behind me. I stepped into fresh layers of frosty snow, plummeting down from the heavens above, my footsteps exposing soiled ice. The wind threw my hair around like a kite, howling in my ears, suffocating my rib cage and my lungs.
That was the first time I saw him.
Out of the corner of my eye, a small boy no older than six. Caramel curls framed his sweet rosy cheeks, a green winter jacket bundled him up in warmth. He smiled at me, revealing a few gaps where his canine teeth should be. But when I looked again, startled, he disappeared.
Two days later, my beloved dog - Whisper - died of unknown causes. For weeks I mourned; I buried him in the backyard, I prayed for him, threw hand-picked flowers on his grave every afternoon when I climbed off the school bus.
The next time was in my dreams.
His hair had grown longer, like a girl's. Thick golden locks flowed down to below his shoulders, tucked neatly behind his ears. The chubby baby-like cheeks had thinned out to reveal a very handsome, chiseled structure. I was nearly in awe, until I realized the little boy had more to say. His arms reached out to me. His expression was no longer sweet and knowing, but distressed and something else... imploring.
Just that night, my dear aunt Melanie held a rifle to her head and fired, ending her own life and sending the lives of those surrounding her into utter turmoil. Her funeral was the saddest I have ever attended.
When I saw the young boy again, he had grown to a young teenager, perhaps twelve or thirteen. He wore stylish clothes, an Abercrombie hoodie with baggie blue jeans. His beautiful hair was cropped off completely. And this time, he simply stared, and my mind and heart were wracked with inner terror; this time, the final time, I knew exactly what to expect.
And the following day, when I yet again felt the agony of unconquerable fear and looked into the tortured eyes of the quiet junior boy from my calculus class, standing with one arm outstretched toward me as he contemplated the terrible nature of all things living, I closed my eyes and prepared to meet my sweet, enchanting little boy for the last time. Behind the lids of my then-peaceful eyes, I no longer saw the boy, but I knew, soon, I would sense his softening presence.
And that I did.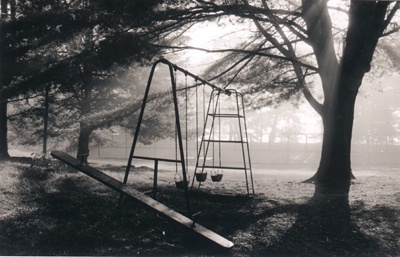 © Steven S., Marblehead, MA