Whisper Woods
April 2, 2010
"The trees are green, the grass is too, if you let them; the woods will speak for you."

The sound of the whistle of the wind through the trees makes me shiver. The only light for a guide is the light from the full moon over head. The shadows from the tall trees seem to be reaching out, but to what? The crunch of the fallen twigs causes me to gasp, and a light fluffy cloud emerges from my mouth.

I keep walking, Deeper into the woods. A root from a nearby tree reaches up and trips me, the green grass coming closer and closer until I felt a slight pain. Suddenly, something whispers in my ear…

"Save us. Save our kind."
An eerie feeling swept over me with a sudden sense that I wasn't alone. I cringed inward. This voice, who was speaking? Did someone follow me inside, or was all the legends of this forest really true?

"Do not be frightened. We need your help. We will not harm you."

"Who are we?" I shouted out, hoping to get a reply, but knowing I probably wasn't going to. That eerie feeling I had felt before, sprinted away, out of my senses. "Hello?"

After several minutes, I decided it must have been my imagination and tried to stand up, resulting in an extreme amount of pain in my ankle. I yelped and fell back down. My ankle was trapped within the root that had tripped me. The root seemed to wrap around my ankle several times before going back under and into the ground.

I was silent. "I may die in here." I thought slowly to myself, tears forming at the corner of my eyes. I wiped a hand impatiently across my face when a few tears escaped and ran down my cheeks.

"Do not be afraid."

The whisper was back! I hurried to look around, but could only see the trees and the animals each one contained. "I'm listening." I thought to myself, trying not to say a single word aloud.

"Good."

I gasped aloud. Whoever this was could hear my thoughts! "Who are you?" I whispered inside my head.

"I am the Spirit of the forest. We need your help."

The whisper was almost a caress. I could hear it, but barely.

"I am weak," The spirit said. "I need you to help."

"With what?" I thought carefully. That's why I couldn't hear it very well, it was weak.

"I am dying," It said. "Will you take my place as the Guardian of the trees, Wind, air, Nature itself?"

"What would I have to do?" I thought, then quickly added, "Why do you keep saying we? Isn't it just you?"

"I am all of nature. The animals and tree need you also. Just raise your hand to the black sky. I will do the rest." The spirit whispered sincerely. "Please."

I knew from experience that I wasn't very good at nature. I would trip walking in the forest, and get exhausted after a simple hike. "What if I'm not good enough?" I spoke the words aloud this time, whispering them experimentally.

"This is your destiny." The spirit said, and then added quietly, "You don't have a choice." Then a sudden wave of darkness rushed over me, and the voice went silent.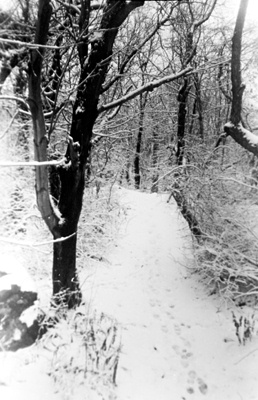 © Kelley C., Marblehead, MA