Destiny of Infinity
October 22, 2009
Not a single soul moved. It was as if the entire group were frozen to their seats. Rick could feel his heart thudding in his chest. 1...2...3...4......5...........

The vice principle was vainly attempting to catch his breath. "Get out of here NOW!"

As one, the room came alive, panic and chaos overwhelming. Rick could barely see in the fray as he found himself tossed in turned in the living sea. Someone accidentally shoved him in the stomach, leaving him gasping for breath. Frantically trying to turn his head, Rick searched for his mother. She was not in sight. There were a few meager teachers herding the flock out the door, each biting their lips or clenching their fists to keep a calm composure. Within seconds, Rick burst out into the sunlight.

Slowly, students broke off into little groups, murmuring amongst themselves. Others were counting heads, handling both their current classes and the lunch crowd. The art teacher within hearing distance of Rick suddenly stiffened, recounting the heads. Rick blinked, a sudden panic gripping his heart. What if there were people still in the school?

"Where...do any of you know where Michael is?" the teacher asked, her voice cracking.

Rick didn't wait for any answer. All panic instantly vanished as it was tossed into the wind. His heartbeat seemed to slow as an unnerving calm enveloped his mind. Adrenaline rippled through his veins as the scent of smoke from the building and the blaring of distant firetrucks as they rounded the bend. Pushing his way through the crowd, Rick battled through the open doorway. Amber was right on his heels.

"Rick!" she screeched, madly clawing to grab his arm.

However, Rick was already too far out to reach. A sudden terror taking over, Amber attempted to follow. Police cars were already surrounding the school, pushing all students away from the doors. Amber yelped in pain as one especially burly man shoved her down the stairs as she landed heavily on the stone.

The police officer's voice was sharpened with brutality. "Don't even dare on going in there! We'll take care of everything."

Still frantically trying to break away, Amber let her grip on the officer lesson. The situation was all out of her hands now. All she could do was wait and hope.


Rick sprinted down the barren halls. The entire school was desolate, with only the remains of life like a piles of pencils splayed across the floor. A thin curl of smoke was entering from the closest classroom as muffled yelling filled Rick's field of hearing. Crouching, he lowered himself to the ground in preparation. The smoke was already starting to sting his eyes, making his sight useless. Taking in one last breath, Rick dove through the doorway.

The room was in a dreary state, illuminated by the flames. There was one boy huddled in the corner while another more bulky frame stood over him. The predator's fists and face were cloaked in black, yet his voice was immediately distinguishable.

"Kevin! Cut it out!" Rick cried, his voice ending in a bout of coughing.

Kevin looked up, his eyes wild. "Sorry, but I can't do that. I need to settle some scores first."

Rick blinked, trying to make out what the other boy looked like. His hair and clothes were thick with ash, and his breathing came out in ragged gasps.

"Really, Kevin! This is a life and death situation; you could have been both killed if you stayed in here."

The boy and Kevin exchanged glances. Kevin just snickered, an unnerving glow shining in his two abysses of eyes.

"Sorry, but I can't let you just take him."

"We....we...really need to go. Settle whatever this is later," Rick said, exasperated.

Flames were already spreading up the sides of the walls, slowly burning holes in the side of the school. The sound of rushing water from the sink was ever-present, as if turned on in a vain attempt to kill the fire. However, as the water touched on section of the flame, nothing happened. As a matter of fact, the water seemed to be feeding the fire.

An electrical fire, perhaps? Rick wondered. However, he couldn't contemplate the topic any longer; they were all running out of time. Trying to clear his watering eyes once more, Rick bit his lip. If Kevin wouldn't let this kid go, he would have to take both of them out of the school by force.

Narrowing down his possibilities, Rick charged in an attempt to knock Kevin to the ground. However, the bully managed to move out of the way in seconds. Rick flopped to the ground, breathing in more of the smoke. Gasping, he crawled around like an animal, preparing himself for another attempt. Kevin dove at him faster than Rick could react. He grabbed Rick, pushing him against the wall. Rick went limp, hoping to fool Kevin.

The plan failed horribly. Instead of loosening his grip, Kevin embedded his nails into Ricks shoulder with some type of uncanny madness. Rick could feel his body becoming weaker as all traces of adrenaline left him. It's going to be over before long...

There was no other way out. Rick, in one last attempt to free himself, exerted all of his remaining energy into his feet. He blindly kicked at Kevin like a wild beast. Kevin immediately loosened his grip. With a battle cry, Rick freed his right arm. Tightening his fist, he punched Kevin squarely in the face. The boy let out a whimper as he crashed to the ground, unconscious.

Crawling to the other boy, he brushed an arm across his face. It left a smoke smudge.

"Are you okay?" Rick yelled, coughing weakly. "What's your name?"

"Michael," the boy's voice vibrated, barely as audible as a whisper. His eyes were rolling into the back of his head as if he too was slipping into unconsciousness.

A ring of flame was now circling the room, trapping all three of them. Rick let out a wail of agony. So they were going to die here, a group of corpses...

Determination flourished in Rick's eyes as he hardened his gaze towards the entrance to the science room. It was nearly engulfed in flame, but was the only way out now. Grabbing both boys, Rick violently started dragging them towards the door of flame. Michael's eyes flickered open for the last time. He let out a gasp, instantly starting to struggle against Rick's grip. He almost stumbled, gritting his teeth.

"Don't go through! Please don't!" Michael wailed, his eyes shimmering with regret.

Rick blinked. Regret? However, he was too tired to look any closer. Averting his eyes to the heat, he bowed his head. Whatever happens, I want to save all of our lives. His knees buckled as Rick sank to the floor. His coughing was non-stop now, only to be broken when his lungs gasped for breath. Rick was almost dragging the unconscious boys across the sooty floor. Pain scrunched up Michael's face as he was dragged closer and closer to the flames.

"Oh...please...you don't...understand..." he gasped, his body practically limp.

Rick's entire mind was screaming to turn back, to stay in the room and hope for some miracle. This is suicide, complete suicide...

With a final cry, Rick lunged through the wall of fire. His body immediately started crying out in pain as the flames licked up his arms, his legs, his back. He was being eaten alive in an inferno. A roar of agony left his lips, a baying call that was dripping with intensity. Fire was scorching the insides of his hands even as they were tightly gripped around Kevin and Michael's arms. Rick's eyes suddenly fluttered open as a wave of cool struck his face. Gasping, he rolled to the floor, placed between an invisible wall of fire and ice.

Weakly turning around, Rick yelped in surprise: the fire was gone. There was not a single trace of it; just a few reminders of its devastation in the gaping holes in the wall of the science room and the debris building up on vacant desks. What in the world...?

Rick opened his fist, his eyes glowing with awe. His entire hand was glowing gold and azure, like that of dying embers in a fire. The glow curved up both arms, creating intricate patterns that he could not even come close to comprehending. Almost trance-like, Rick gazed at his arms as the glow began to fade into his skin. Within seconds, all trace of the illumination was gone.

He let out a breath, his mind buzzing with questions. Even the scent of smoke was fading away from the school, as if the entire area was being purged of its danger.

Kevin let out a groan beside him. Gulping in alarm, Rick turned to face his adversary. The boy was barely conscious. However, he did not have a single scratch on him. Curious now, Rick turned towards the other boy, Michael. He too didn't have a single trace of hurt. Rick raised a brow. What is the meaning of this?Rubbing his eyes, Rick squinted, scanning for any injuries. Yet again, there was no sign of injury. I must be going insane...

"The smoke is probably getting to me," he reasoned.

Still crouching, Rick limped towards the two boys. Narrowing his eyes, Kevin scrunched up his nose.

"What's going on?" he groaned, all hatred gone.

Michael's body twitched as he too came to life, pulling himself to his feet. "Yeah, what are we supposed to do now?"

Rick chuckled. The answer was pretty obvious. "Well, if I were you two," he began, "I would want to get out of this school before the teachers tear us to shreds from worrying."

"Ha ha. Very funny. Now let's go," Kevin growled, not even looking back to make sure Rick and Michael were following.

Rick shrugged, falling in beside the other boy. Michael's eyes were glinting with anxiety. "So...do you like being by a nickname, like Mike or Mikey?"

"No. Just Michael."

With that, Michael shot forward, breaking into a sprint. Rick's shoulders bobbed with defeat as he walked alone, his only companion the torn pieces of notebook paper lining to hallway.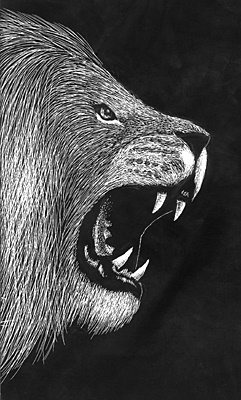 © Russell W., Alpine, UT