The Invisible Sister
September 22, 2009
Was I supposed to see anything? I looked at the woman holding the perfectly square card, it was beckoning my queue.

"Come on now, darling, what does this look like to you?" The therapist held up the card a bit closer now. I stared at her slightly pleading face, waiting for my answer.


My short legs kicked the table's own steel ones. I looked up at the ceiling, trying hard to guess what this was supposed to be other than an inkblot. Then, I heard her.


"Say it's a bunny."


I turned to my left and saw Remy.


She was back again. She was leaning against the therapist's desk. Ms. Liebermann, my therapist, was still awaiting my answer.


Remy rested her head on her crossed arms, swinging her right leg idly, making her pale green dress float around.


Remy smiled at me, "Tell her." She turned and examined the therapist's face, "She wants you to say it, go ahead!" Remy grabbed her hair and piled it on top of her head. Her dark brown curls fell over her face as she shook her head and quizzed, "Guess who?"


"Sophie, any answer works, you won't be wrong," Ms. Liebermann quietly said. She patted her blond hair; it was piled on top of her head much like Remy's. I stifled a laugh as Ms. Liebermann gave me a curious look, "Sophie?"


I woke up, not in my therapist's office but in my room. I glanced down at my hands, checking and even pinching myself. I have often convinced myself that I was actually insane and couldn't wake up from my own nightmares.


Nightmares aren't real Sophie.


I sighed and sat up in my bed, staring across my small room towards my dresser, in front of my bed. The face of a groggy seventeen year old reflected what I saw. It didn't reflect how I felt now. I still felt like little Sophie in the big people's chair in Ms. Liebermann's office. I still feel like a little hopeless girl. I pushed my knees up against my chest and let out a shuddery breath. I didn't want to feel this way. There wasn't anything wrong with me; there isn't anything wrong with me. Damn, I still can't convince myself otherwise though.


"Quit having one of your episodes," my voice sounded near me. I didn't glance over my shoulder, but I did look back into my large mirror. She was right beside me, looking just the same as me, except her long loose curls were neat and flowed with a carefree spirit that was their own. Her eyes never had circles under them. Instead, those green gems shone brighter in the morning. She was smirking at me from the mirror in her usual up-to-no-good attitude.


"Rem," I breathed. "I had another one."


She frowned, "I know." I took my eyes off the mirror and glanced at her. She was still here. She is always here. Remy is real. It's always been like that. For as long I remembered. She was biting a nail when she said, "Stop remembering that scene. I hate that woman. She doesn't want me here."


I was wringing the corner of my bed sheet, "Yeah..." Then I said, "I—I can't help remembering..." I sounded so scattered, so uncontained. I shut my eyes and tried wishing away the thoughts. If only I was the type of person that could forget these things.


Remy sat down on the corner of the bed, close to me. She wrapped an arm around me and rested her head by mine, "It's okay to remember, trust me..." I felt her take in a breath, "It's such a gift to know where the hell you came from."
Remy gave a laugh, then after a moment she rubbed my back.


I knew she didn't want me to ask anymore. I've known Remy ever since I was one, my very first memories actually involved her—us playing in the sandbox, she and I playing tag. Remy was just, always existent. With that existence come those memories. Many taunts and questions about why I am the only person that can see her, my parents and their hidden expressions, just pleading that I wouldn't 'talk to myself' in public. I realized that no one else ever saw Remy. I had realized that at an early age, about three and a half or so, that revealing Remy to the world was not an option. This is often showed through my parents, who got Ms. Liebermann to 'aid you', so they say.


All of this was running through my head like a whirlwind. What I tired to avoid was thinking the obvious. Who is Remy? Why do we look exactly the same? Then the question I feared to thought is she really with me here?


"Soph," Remy suddenly said in a firm voice. She pushed me back and looked me in the eyes for a long time. Then, she said, "I don't know what's going on either but I know that you're my sis and we're the only things that we have in this place." She cleared her throat, looking away. "Never mind about that," she said as she stood up. She tugged at the hemline of her jean skirt, "That was pretty deep wasn't it?" She laughs loudly, "I'm beginning to sound like you."


I grinned after her and stood up myself, stretching out all of the sleep that was left in me. I walked up towards my mirror and took hold of my hairbrush, ambushing the wild mess known as my hair. As I brushed out each tangle, I was thinking of the words that Remy said, before she made a quip about being deep.


We always acknowledged ourselves as sisters, twins even. We looked exactly the same, so it was fitting. Yet, we stuck with sisters because I felt some sort of vacancy with the connotation 'twin'. I stared at myself in the mirror. Remy was by the corner of my room, going through what I should wear for this Saturday. Twins are usually born together. Usually, I mean. I shook my hair out and placed my brush on the oak vanity. Rem was right; we only really do have each other in this world. At least one of us doesn't have to worry about feeling isolated.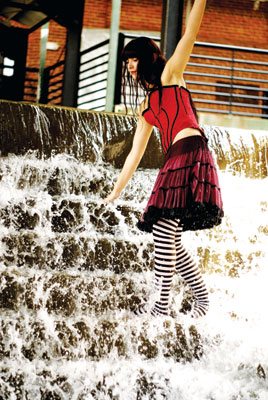 © Daniel H., Durham, NC