do you believe in love at first sight?
June 4, 2016
I was woken up today by the pleasant warmth of sunlight shining mutely through my white curtain, instead of an alarm clock. I had forgotten I was finally at the beach house.
Rolling onto my back, I stared at the bunk bed my sister and I were sharing. My hand reached out to trace the easygoing wrinkles in the sheets. My glinting wristwatch caught my eye and it read 5:45 am. It was comforting to know I always had more time to sleep. The salty scent of the ocean drifted in lazily through my open window; I could almost taste it. A cool breeze made the wind chimes outside of my house sing a sweet tune, and the calming yet monotonous sound of waves was constant in the background. Sea gulls were crying in the sky, circling my house.
I closed my eyes. I loved being at the ocean, I felt as though all the sights and smells were built into my bones. I was just about to fall back asleep when the serene setting was suddenly broken by a swear word uttered by my sister. I took a deep breath, trying to ignore her boyish attitude.
"Good morning Celia," I said.
"Shhh, I'm playing a game. Don't interrupt me," she snapped back.
I rolled my eyes and hopped out of bed. Looking up at the 14 year old girl, I could see she had been up most of the night. Celia's auburn hair was frizzy and disheveled, and her eyes were bloodshot and half-closed. She was controlling the game at a slow pace, and her mouth seemed to be frozen in a yawn. Of course I could barely see this, because a blanket was royally draped over half her body.
"I'm going downstairs now. You should get off your game," I said.
"Mm," she murmured. "Hey, can you bring up breakfast to me?"
"No, you can do it yourself."
"Please Flavia?"
I ignored her.
"Why not?" my lazy sister asked.
I scoffed. "What have you ever done for me?"
Shoving on my flip-flops and pushing my glasses onto my nose, I exited the room.
-=-
One of my favorite things to do while vacationing is watch the sunrise. That's exactly what I was doing now. The trick is to wake up early and get to your viewpoint at the right moment. Hoping I was going to get there in time, I hurried down the boardwalk still wearing my pajamas.
All the shops around me were closed, the metal bars pulled down over their entrances. I felt like I was in a ghost town, being the only one outside. The biting morning air danced on my shoulders and I shivered.
Finally, the first turn to enter the beach appeared. I took off my flip-flops and moseyed down the path. The sand always felt chilly before the sun woke up, but still I stayed on its light, airy surface. Spotting a bench and plopping myself down upon the splintering wood, I dug my feet under the earthen turf.
Now I could watch the sky. It started at the horizon, then painted itself further up in the atmosphere. The heavens wove into itself, fading from pinks to oranges to yellows and even a tad of purple. Half of the sky was all warm coloured-clouds, and then it melted into the clear blue sky.
All of it was reflecting onto the water, creating a rainbow effect on its clear surface. The salt body had small waves licking at the shore, turning the earth a darker shade of brown.
While I was wrapped up in mother nature, I didn't notice someone had stealthily slid into the seat next to me.
"Looks like you're enjoying yourself," the stranger said, his voice breaking the silence.
I must've jumped a mile, because he chuckled quietly.
"Sorry if I scared you, my name's Michael."
Michael stuck out his hand.
Mine was trembling, but I lightly took his, shaking it in a friendly manner. My eyes traced the veins on his hands and up his muscular arms.
"I-I'm Flavia," I stuttered.
I looked up into his laughing eyes and forced a grin. They were a beautiful shade of green.
I must've frozen or something, because he politely removed his hand from the greeting. Looking back out at the ocean, I attempted to make conversation.
"So, you like to watch the sunrise too?" I asked.
"Yeah," he answered, rubbing at his neck. "I figured it'd be nice to get out before all the people come."
I nodded.
"I always do this when I'm on vacation, almost every day. I love the gorgeous colors, and the way the sun sparkles…" I trailed off.
"Yeah," he agreed.
I looked over at Michael, taking in his appearance. He set his muscular, straight, strong jaw; I licked my dry lips. His hair was dirty blonde, just a bit lighter than the colour of the sand. I wondered how it felt to run my hand through it-- stop, Flavia. You just met him. But the dimples on his cheeks…
I looked down at myself, my flannel pants and baggy sweatshirt; pictured my messy brown bun and nerdy glasses framing my tired face. I pushed them up my nose.
"So, do you live here, or are you on vacation?" I asked.
"I'm on vacation, it's summer break," he reminded me gently.
I mentally slapped myself for asking the stupid question. Curse my awkward self.
I think Michael could sense my embarrassment, so he asked me another question.
"Do you swim?"
"I also body-surf and boogie board," I answered, nodding.
Wait, boogie boarding? Isn't that something children do? Well, too late to take it back now.
"I love boogie boarding," the gorgeous boy said. "I surf, too."
"Really? Wow! I've never met a surfer."
"Well, now you know one," he laughed.
I giggled at his lame joke.
Silence for a bit.
"Well, I best be going. Gotta make breakfast for the ol' relatives, right?" I chuckled, standing up and wincing at my words.
"See you later, Flav."
I liked the nickname he gave me.
"Bye Mikey," I offered, trying to be as chill as him.
He chuckled, waving adorably.
I grabbed my flip-flops and started to head out.
"Wait, Flavia!" Michael suddenly called.
I turned around.
"Yes?" I asked.
"Will you be here again?"
"Every day."
"Okay."
"Okay."
"Maybe that will be our always," he whispered, referencing my favorite book, The Fault in Our Stars.
The tall blonde boy winked.
"Okay."
I wrung my hands and giggled nervously.
Walking away, I was glad Michael couldn't see the big, goofy grin plastered on my face.
-=-
My God, it was hot today. The heat sat all about me as if I was in an oven, but I almost didn't care. I was kind of looking for Michael, kind of wandering.
I plucked a Swedish Fish from my bag of candy I had gotten from the Sweet Shoppe and popped it in my mouth. There was a bit of sour sugar sprinkled on it left over from my sour belts, and my lips puckered at the biting taste. In search of a more pleasant sugar rush, I sauntered towards the strip of shops.
Standing in line for the ice cream store, I barely noticed my surroundings. I was counting out the money to buy a Two Flavour Twist Cone.
"One, two, three-"
"Here you go ma'am. Have a nice day. Next!" A familiar voice called.
Michael?
My snapped up, and when I saw the blonde boy, my pulse quickened. Since when did he work here? I felt awkward, and not ready to face him. Panicking, my feet carried me far away from there at a fast pace, and I heaved a sigh of relief. But why did I feel that way? Why wasn't I brave enough to face him? Why did I feel guilty?
Whatever, I thought to myself. I huffed and walked into a bracelet shop.
-=-
I clutched the steamy pizza box in my hands as I ambled down the boardwalk once again. Capillaries adorned the tops of my cold fists and my skinny arms.
Did I make the right decision? I asked myself.
Paying no mind to the sky, I walked with purpose onto the shore.
I was breathing heavily; I felt as though I was making a big deal out of a little situation.
The night before, I went out to order a pizza and bring it home, in the hopes of offering it as a 'nutritious' breakfast for Michael and I to share by the ocean. That would be romantic, right?
My relationship with him felt… different than anything I had ever experienced. I felt as though I needed to make a move, or it would be too late. Even though we had just met, I knew we really had something.
"Flavia!" Someone yelped from behind me.
I froze, sure it was Michael. He jogged to catch up to me.
"Wow, you really have a habit of sneaking up on people," I said as he slid in beside me.
He chortled awkwardly and nodded.
"Hey, is that pizza?" He asked excitedly.
I nodded and opened the box, being greeted by a cloud of heat clashing with the frosty air.
My friend rubbed his hands together and licked his lips.
"I bought it, for us," I muttered sheepishly, blushing.
He looked into my eyes and smiled.
"Thank you Flavia."
We paused a second, and I could've sworn I saw him leaning in. But then, he gasped as if remembering something.
"What is it?" I asked anxiously.
"I have something for you too." Michael beamed.
"R-really?" I stuttered, unable to contain my childish grin.
I laid the pizza box on the ground and waited patiently while he fiddled with a small bag. Then, he pulled out a rose.
It was so beautiful, with all its bright red petals swirling around each other, the green stem decorated with an occasional thorn.
He held it in front of him, offering it to me. I took it and inhaled its sugary fume.
"Oh, my gosh," I whispered. "Th-thank you."
I was so glad the feeling was mutual.
"Do you believe in love at first sight?" he asked timidly, smiling that adorable smile that stretched up to his crinkling eyes.
"Yeah, now I do."
-=-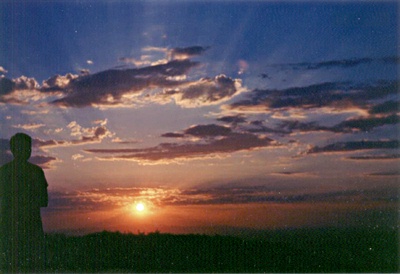 © Jovee B., Dededo, Guam