He saw me
December 14, 2015
 I look behinde me to see if anyone is looking then run into the studio. I clise the door behinde me and cover it with a peice of paper and tape the paper on the window portion so no one can see me in here. The thing is I am not supposed to be in there but during night time everyone is in their dorms.
  I put my bag over by the wall of mirrors and crouch down toward it. I unzip my bag and take out my laptop  and shoes. I walk over to the corner of the room and plug in my laptop to the speakers. I turn on my laptop and go to music where I pick a slow but upbeat song but don't play it yet.
  I put my dancing shoes on but then I realize that there is a problem, I am wearing a dress. Well, I will just have to deal with it. Once I'm done stretching I put on the song and start dancing. I feel like I am walking on air and the song is over before I know it then I here him. He stands by the door and claps to lousy claps and smiles at me. I have seen him once or twic ein the hallway and he always smiled at me.
 "Well done, I love that song. Every time I see you, you don't look like the dancing type." he just stares and I blush. He is handsome. I go over to the laptop and shut the screen. He walks over to the corner and I just stand there waiting for him to ask what I am doing here but he just reaches into a cubby in the wall and takes out mens dancing shoes. He slides off his sneakers and slips right into then dancing shoes. He flips open the laptop and clicks on the lock and he clicks onto a duet song that I have done alone for the longest time and he takes my hand and walks me toward the center of the room and says softly "Follow my lead" I just stare for a moment and realize that he has the most beautiful brown eyes that glitter slightly.
  He starts to move and I just follow him and all his footsteps. In the corner of my eye I can see that the paper fell of the windo and that the door was slightly cracked. "How did you know I was in here" I say softly.
  "Well, I noticed you walk in here but never came out, so I investigated and then I saw you dancing beautifully so I watched you."
  I just stare at him  then lean in closer and our eyes meet and he just stares. "What, is there something wrong"
  "No, I just think that you are pretty and well, I kinda love you." This just makes me love him more than I ever did and this is the first time we have ever talked to each other. His hair is blonde and cut short but in a good way. Compared to my little body with my long brown hair, so many other girls in this school are gorgeous.
  "You just met me and said you love me. Why me?" the music stops and we just stand there still with hands together. I just stare into his eyes and notice that he is leaning in. He leanins in so much that we share breaths but then he takes the rest of the space between us away and his lips find mine and we kiss for a long time. He pulls away and I hug him so tight that I can feel his muscles tighten. I never realized how  strong he was until now.
  "I picked you because you are the prettiest and mosy graceful intellegent girl I know and nothing will change that." Then without another word I kiss him this time and wrap my arm around him. This is a night I won't forget.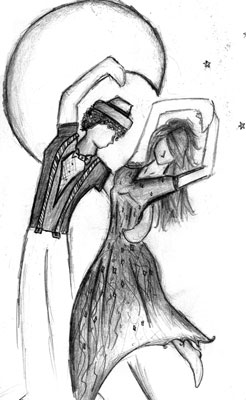 © Megan L., Everson, WA