Hands
March 20, 2014
Thunderstorms scare her. The boom and the crash pound in her little head.

"It's okay, Thamantha," Cody lisped. He grabbed her trembling hand, calming her fears.

First day of high school, loud students with their friends. Fear of being all alone.

"Over here, Samantha," Cody held her hand as they walked down the hallway together.

A new job in a high-end law firm. Knees shaking and heart pounding.

"You'll do great, Samantha," Cody gave a final squeeze on her hand before she went inside.

White dress, veil, and bright pink flowers. Gliding down the isle with all eyes on her.

"I love you, Samantha," Cody clutched her hands and said, "I do".

Pain wracking her body as the child inside fights for freedom.

"I'm here for you, Samantha," Cody rubbed his thumb over her sweaty hand.

Long day of kids fighting, laundry, cooking, and cleaning.

"I'll help you, Samantha," Cody took her hand, leading her to the couch.

Empty house, kids far away. Silent tears and memories.

"You still have me, Samantha," Cody held her hand and pulled out her smile.

Not many days left. Pale skin and spreading cancer.

"I'll see you soon, Samantha," Cody grasped her hands and covered them with his tears.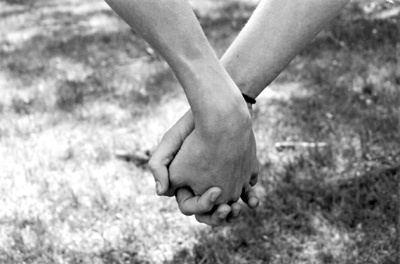 © Alexa T., Pompton Plains, NJ