Unfulfilled Love
April 14, 2013
Charlie:

I used to hang out with Sammy. I used to think the world of him. I would often sit beside him at lunch and tell him how nice he looked. I would help him with anything he needed just so he would remember I was there. If no one else, I wanted it to be him to remember my existence. For him to remember that it was Charlie J. Walker, the sweet girl from lunch that helped him the most, would do anything for him, and loved him unconditionally.
But anyway things didn't go as planned. After the accident, Sammy forgot about me. That is if he ever thought about me. Looking down at him, I never see him acknowledge my picture in the Hallway of Remembrance. He even let some new girl sit in my seat. And when she asked him, "Who used to sit here before me?" he told her that, "It was just some girl." Was I really just some girl to him? I mean didn't he have the decency to say my name? Did he even know my name? I guess not. I guess he never cared about me. It's not like he went to my funeral anyway. It's ashamed that even dead you can find your heart broken.


Sammy:

I'm in love with Charlie. The bad thing is that I never told her. To tell you the truth, I don't think she had a single clue. I mean she used to sit by me every day at lunch and was really nice, but I was often dry with her. I was going through a tough time then.
But when the car accident happened and she was gone, I realized how much I missed her. But being a guy like me, you can't really tell these things to your friends without them getting on your back or making fun of you, so I just keep it to myself. I can't even look at her picture in the Hallway of Remembrance without being mad at myself for not being nicer to her and telling her that I cared for her when she was here. I try to act like she was just some girl, but the reality is that she was the girl and is always on my mind. I miss Charlie. It might seem pathetic but I'm in love with the dead girl.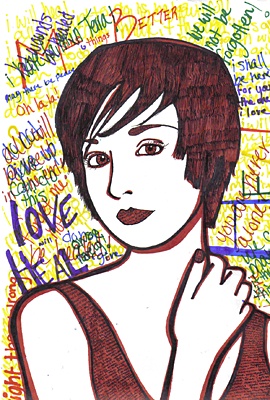 © Sara D., Aiken, SC