Dance steps
January 21, 2013
Andrew looked at Charlene as the lights dimmed. Her brown hair, usually hung loose, had been arranged to the side in an elaborate braid and her face fairly glowed. Her dress was long and the scarlet skirt gathered like wispy layers. To him, she was beautiful, flawless.
However, she was also with a different guy, Jason.
As Jason sundered off to get a drink, Andrew seized his chance and went over.
Charlene smiled at Andrew. He offered his hand. "Did you want to dance? I think they're going to do a slow one."
"I'm not sure-" Doubt crossed her face, but he took her hand and led her out onto the floor. He was somewhat smaller than the other boys, but he was not without his own good looks. His usually messy black hair had been combed over and his dark eyes reflected the light. He had the mischievous smile that snuck up on people and was quick with a comment or joke.
He wrapped his arm around her and their fingers intertwined. The music began and their feet stepped together in synchrony, a series of notes they danced on.
Andrew remembered the first time he had met her; quiet and studious, she had been that shy, academic reclusive. Yet he had felt an automatic draw to her, a compelling connection.
"Why did you want me to dance with you?" Charlene twirled around, her braid falling back.
"I wouldn't want to say it here in front of everyone. But at least you're here now," Andrew smiled and pulled her back and they resumed their step in harmony.
Charlene frowned. "I guess I am. But why did you want me to dance with you? I thought you came here with that other girl…Christina?"
"I did. But…" Andrew paused and led Charlene off to the side away from the other giggling groups of people, watching the dancers.
"What's wrong?"
"Nothing's wrong." Andrew hesitated. Charlene looked at him expectantly.
Andrew sighed and spoke rapidly, blushing as the words poured out of his mouth. "Charlene, I know people always talk about true love in books and how people say it isn't real. And I know how people also say teenagers don't know about love. But I know I love you. When I saw you, I knew that you were the one for me. I wanted to be with you. I don't mean that in an obsessive way, but I know I love you. Please, Charlene, will you be with me? Could you please be with me, instead of Jason? He's not worth it and he'll never appreciate you for everything you are: beautiful, smart, and talented, he'll never see you the way I do."
Charlene looked at him, tears in her eyes. She swallowed. "Do you really mean that?" She glanced back at the center, where Jason stood off with another girl. "Andrew, I-I don't know what to say…"
"It was silly of me to just blurt it out like that, but I do mean all of it."
Charlene leaned forward and hugged him. "I know you mean it. And I do mean it when I say I would like to be with you too."
Andrew returned her hug. He had not been sure whether or not she would agree after just one dance. He knew of his own feelings for her, but not of her for him. Relieved, he closed his eyes and listened as the music from the dance encircled the two, the series of notes they had danced on.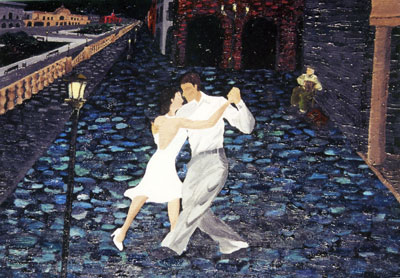 © Elizabeth M., Kannapolis, NC