Jake <3
November 12, 2012
Chapter 1
Do you believe in love at first sight? Well I didn't until today. It was the first day of school and I already wish summer break was here again. I had gone shopping with my mom and bought this new gorgeous outfit from forever 21. The top was a blue and green flannel that was tide at the bottom so you could see a little bit of my overly tanned belly. My jean shorts were had rips on them and were tight in all the right places. Shoes were always hard for me to find because at the moment I am between two sizes, however I managed to find a pear of peach toms that fit me perfectly.

I was sitting in my science class counting down the seconds till lunch.

"Clare"! Mr Belford yelled.

"Hmm?" was my reply.

"What did I just say?" he asked.

I just shrugged. "Well pay attention from now on" he said before he continued his discussion with the rest of the class.

It was my sophomore year and my best friends were in none of my classes. Most of my classed consisted with stingy nerds and dumb jocks. What a great start to the year.

As the months passed school got harder and harder and so I decided to try out for cheerleading; maybe if I would get really good at that my mom would get off my case for letting my grades drop.

Try outs were not as easy as I had anticipated but I made the squad. I practiced everyday after school and twice a week got to cheer for our school football team at their games. It was fun and I became quite popular especualy with the boys.

It was until that one day, the day I say him, his hair was a musky brown color and his eyes were bright blue with violet streaks. My heart skipped a beat when I saw him and butterflies arose in my stomach. I had never felt this way,

"Clare"!

"Huh?"

"Stop starring your being creepy" it was my best friend Tyra talking.

"Oh right sorry" I managed to say as I shook the thought of the beautiful creature out of my head and returned to eating my lunch.

It wasn't until three days later that I saw him again. I was walking home by myself and I decided to take a shortcut through the forest by my house. There was a small path that followed and a little stream that in the spring sometimes had tiny fish. Anyway the creek was frozen over and there was a fresh layer of white fluffy snow that covered the now frozen ground.

I termed a corner and there he was. He was sitting on a fallen log and petting a old black dog. He looked up when he herd me walking towards him. A lump formed in my throat and my palms started to sweat.

"Hey" he said. "I'm Jake".

"Hi" I managed to squeeze out of my stuttering cold lips.

"Uh and you" he asked.

"Clare" how could I be so stupid I almost forgot my own name. What has come over me?

"And this is Charlie" he said pointing to his dog. "He's a black lab".
I gave a slight nod because I was lost for words.

"She's getting old but I figure she's got a few more years in her." Jake stroked Charlie's face.

"I used to have a dog named Max but unfortunately he died a few years back" I told Jake.

"Yea well it happens to the best of us." Jake replied. "Anyway nice meeting you but I have to go. See you around ok" and with that he got up and walked by brushing my shoulder as he passed.

A slight smile passed my face and I quickly skipped home instantly looking forward to the next time I see Jake.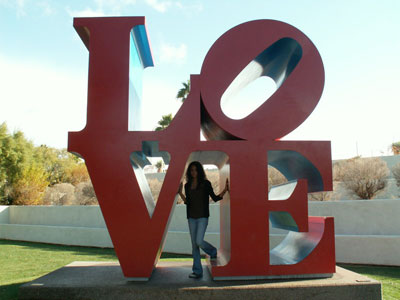 © Shannon E., Glendale, AZ