He's waiting for me
May 16, 2012
I saw him one day. He just appeared in a truck and started walking up to the ranch house. He was my age, 16, with dirty blonde hair that swept gently over his deep blue eyes. I was taking up a horse, Tawny, when I saw him. I flipped the stirrup over the horn and something caught my eye. They boy was standing there, watching me, but as soon as he saw me look, he disappeared.
After I had finished and was about to mount, I heard someone calling my name. I turned around and saw Mrs. Reilly. With her was the boy from earlier.
"Rhea, this is Wesley. He will be staying here for a while. Would you show him around?" She asked me in her annoying girl voice.
"Yes, ma'am," I said not wanting to talk to her. Mrs. Reilly nodded then left, "do you know how to ride?" I asked Wesley. He nodded shyly.
"You can hop on Tawny then, I'll go fetch another horse," I gave him a quick smile then ran to get another horse.
When we finally made it to the trails we started to talk. I learned that he was staying here until his father returned from the army. That could mean days of years. When you got him to talk he had a nice soothing voice and a great smile. He was handsome too. Something ticked inside me when I looked at him. I knew one thing for sure, I didn't want him to leave in
a matter of days.
As the summer continued, Wesley and I became better and better friends. We rode tons and on special days, ate lunch together.
Once rainy day we found ourselves huddled beneath a tree, waiting for the rain to cease. It was terribly cold and all I wore was a T-shirt and jeans. Unexpectedly, Wesley pulled me close and wrapped his arms around me when he saw me shaking. There had been nothing romantic going on between us, but now my heart was racing. I felt his warmth encase me, I was resistant at first but soon I settled down and accepted it. No boy had ever touched me like that, I wasn't sure what to make of it.
"Why'd you come here," I said breaking the silence, "I mean to this ranch."
"Because I thought I could find something here," he replied curtly.
"What were you looking for?" I asked. He only shrugged.
"Have you found it?" I asked and he cocked his head as if he was thinking.
"I believe so," He replied.
"What is it?" I almost demanded.
"I found something beautiful, delicate like a rose petal but as tough as ever. Something I love." I blushed. He was talking about me.
"And whats that?" I played dumb.
"Its you," He whispered. I looked up into his deep blue eyes and felt something I had never felt before. It was love.
Our heads turned and drew closer to each other. I felt his warm lips pressed against mine. It was only a quick kiss but something inside me begged for more. Instead we sat there in silence and watched the rain.
After about and hour, the rain had stopped. We found our horses and rode back to the barn. After that day I've never felt the same way about Wesley. We continue our regular lives at the ranch, going on rides together and talking. I wait for the same Wesley I met back at the tree, one with generous words, soothing eyes, and warm lips. But when I at him i can't help but feel that he is waiting for me. Waiting for me open up and really accept him. I do love him but am I ready for him?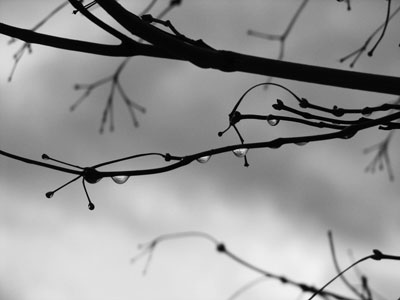 © Carly M., Hopedale, MA