Till then... Your best friend forever...
February 22, 2012
When i see your face, there is not a thing that i would change.
Cause Guy, you are amazing just the way you are.
Every time we meet, i fall even more for you.
Everytime i want to tell you that i like you, I get a bit scared inside. Words fail to come
out and I patiently listen to the stories you have to tell, the incidents you happily narate
and the joy you express on meeting me.
I want to be your last thought at night and your first thought in the memory.
I want 'Us' to be your favourite memory. I want to hang out with you, to go to the beach
with you, hold hands with you, wrap my arms around you and feel your warmth.
I want to cuddle with you and feel you there with me. I want to be the first one you come
to when you have something very important to tell. I want to be the first one you break
the good news to you.
I want to be your lucky charm.
But i am scared. Scared on the inside. I worry that i wont be able to maintain this
relation upto your level. Even though we are best friends and i tell you everything,
are you sure i will be that good a girlfriend also ?
We wont be able to meet that often, to date and to kiss, and that could dissappoint you.
I dont want to dissappoint you.
And so, for now, i will just keep those three words with myself.
The day i am free, you will be the first to know.
The day i know i will be ready will be the best day of your life. I will make sure it will
be.
Its a long wait till then, but i promise to make it worth it.

Because that will be the day i will tell you that i love you.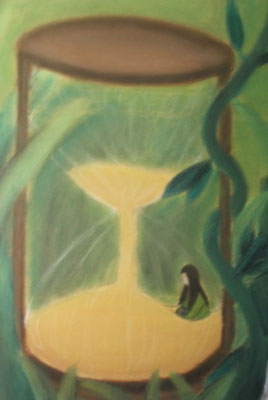 © Carollynn G., Hawthorne, NY