Just Breathe, Cari
January 19, 2012
Drip,

Drip,

Drip,

Drip .

Rain starts to fall outside, splashing the cement with little droplets. Inside my house, hidden in my room, I take shaky breaths and press my face against my knees.

You've gone through worse, Cari. Just breathe, Cari.

Breathe.

My room looks blurry through my tear-filled eyes. I blink hard, once, twice. I grind my fists against my eyes, trying to keep the would-be tears inside.

Crying won't get you anywhere, Cari. You don't deserve to cry, Cari.

The rain begins to fall faster, now pouring down in a steady stream. It should be enough. If I can't let my tears fall, then the clouds' tears should make me feel better. They don't.

Get a grip, Cari. You're strong, Cari. Just breathe, Cari.

Breathe.

Moving across my room, I pick up my guitar and pluck a few trembling notes. I open my mouth to sing, but no words come out. Shaking my head like a wet dog, I lay down and curl against my guitar, my knees knocking against the cherry-stained wood.

You didn't mean enough to him, Cari. He left you here alone, Cari.

There are footsteps on my stairs. They pause at my door, then pass. I don't move. It doesn't matter. Nothing matters. The only thing that's real is my knees against my guitar, my pillow pressed into my right cheek, and the rain now slamming against my window.

What happened to you, Cari. A year ago you laughed at girls like this, Cari. Just breathe, Cari.

Breathe.

I want my phone to buzz, so I can choose to ignore it. I want you to call so I can hurl my phone against the wall in a moment of hate. I want dragons to be real so they can roast you. I want bigfoot to be real so he can step on you.

Hah, bigfoot...you're funny, Cari.

I just want you back.

You're pathetic, Cari. Don't cry, Cari. Just breathe, Cari.

Breathe.

My future looks dark ahead. No one is coming to comfort me. He was all I had, and now I have nothing.

What a mess you've made of your life, Cari.

A whimper twists my throat into painful knots, but I refuse to let it out. I refuse to cry. I refuse to admit the end. His last words echo through my head, like he's shouting them at me, shouting them through a tunnel. Outside, the rain continues to fall, turning into a raging tempest.

Goodbye, Cari.

Goodbye.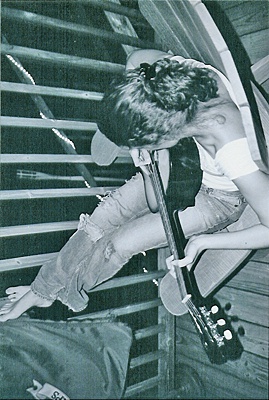 © Kendall B., Katy, TX