My Shadow
September 25, 2011
I stared at his back with hot eyes as I watch him walk away.
He left me standing here , with my eyes swollen and heart heavy .
I screamed and screamed his name but no words were spoken.
Under this maple tree
Where he first kissed me , would now only remind me of when he left me.
Standing there
I stood there into my knees grew weak
Maybe he'll come back for me .
He said he loved me
But once again I told him I didn't believe in love
So what was I feeling now , Like fairytales are deceitful
He told me I was a brick and I should loosen up and put my emotions in it
But now my emotions got the best of me and I'm weeping under this maple tree.
Alone , as the wind knocks against my knees
And the sky is as dark as the ebony streets
I remember when he wrote my first love poem for me
" Voice like silk as warm as honey , a thousand violins
How your eyes light up like lightning bugs when I touch your butter like skin
And I kissed your tender lips your olive oil skin , smelling as if you rolled in a garden of roses
I wouldn't mind being your shadow as long as I could follow your forever. I may disappear at night
But you can see me in street lights . Or when the sun is bright and you hide in the shade on a cool day
Ill be there behind you always. There in the shadows the image of you
Remember when I used to trace the lines in your hands
I can do it without them even being there .
I know you better than I know myself
And I mean this not to be a cliché
You see the world in a better place
You make my dreams feel like there in length way.
I will always be there.
Your shadow, will be the black that outlines your body
I will Always be there
Until your heart stops beating and you and I are labeled as one.
In the dark at night while you dance under the street lights
I grab your hand and I dance with you to the rhythm of your heart beat
The rhythm of you shuttle feet
I'm jealous of the wind as it kisses your face and plays with your hair
Your brown hair tuck behind your ear

I'll always be there".
I read this poem over and over again
Until the point I didn't need the paper and I recited it in my head
My head was filled with him
Him the one who never called me Liz
Because he thought Elizabeth was just to beautiful
Him
Who's touch was as smooth as a babys butt
I LOVED HIM
I said it … I know what love is
I LOVE YOU I shouted
And my echo slapped me back in the face
Then reality togged at my shoulder
He gone and he's never coming back

He walked away and the darkness swallowed him
He walked away from under this maple tree
Where we had our first kiss
And the leaves fall slightly where our names where carved into the tree
Elizabeth and Lucus
I guess forever turned out to be severed
And my shadow is invisible when I stand under our Maple tree .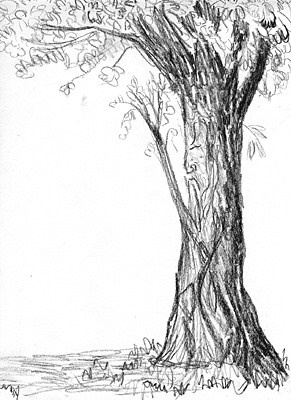 © Anna W., Athens, PA