The Angel Chapter 3: The Truth
September 22, 2011
When I arrived back at the room, it was like horror for what I saw. I was about to faint so I ran back to where Adam was . By time I reached the room where he was, I was about to pass out. Adam didn't bother to ask and told me to lie down. He ran to the room and saw Trevor on the floor and Xavier facing the other way. He creeped up behind him and strangled him for hurting Serena and went to try to save Trevor. Luckily, Trevor came back, breathing within two minutes to spair. "Man, are you okay?" he asked him. "......(sigh)......Yeah,im okay....where's she at?" he asked. "She's okay. Let's get up and head home." said Adam. Next thing Serena saw was Adam walking out from the hall with Trevor alive and by his side. "Trevor,...are you okay?" she asked in a upset tone. "Yeah. Im okay." He said.


The next day they were safe in the town of Denali'. It was a small trip from where he was abducted miles from the reservations. Trevor left them to go back to his job with the master which was five miles away. I trusted Adam now more than ever so he went in the building himself alone. I sat on the pavement steps and thought back to how Trevor was acting and what Xavier was doing. How was I going to tell Adam the truth about Trevor and me? Adam always told me the truth about everything in his life. Adam came walking back out healthy. "Did they say anything to you?" I asked. He looked at me like something wasn't right. "Something's different now but how can they change anything and I was here just the other day?" he said feeling something bad with Trevor in mind. "Well,... let's get going. We don't have that much time." I said. We walked back to the kingdom where the master was located. We were about four miutes away by foot.


When we arrived, Adam was still thinking about the building in Denali'. He decided to go ask the master about it. I followed him down the pathway to his room at the top flight. When we opened the door, we saw the master was perished and trevor was still as a statue. Adam took a glance at the master on the floor beside his throne. I walked up to Trevor, but he didn't respond when I asked what was wrong. " I wonder what happened. Wait, Do you think anyone in the kingdom knows about this Adam?" I asked. "I don't know Serena. Wait.....where's Xavier? He works here but I didn't see him anywhere when we came in." he asked.


Right now, I couldn't hold it in anymore, I had to tell him the truth about me and Xavier. "Adam there's something you need to know. The truth is....Xavier and I have a history together. We were engaged before I even met you." I said as his blue eye's were filled with anger and sadness."Serena....how could you do that to me!" he yelled to me. I turned around and left. I felt bad but it's the truth. I was still in love with Xavier. I can't stay with Adam if I feel that way. He think's we were bound to love, but I was only honoring life's vow.All I did to him was only to ask for the right oppurtunity to give him up for I can be with the right person.


When I got on the last floor, there he was standing there as someone was telling him about the incident with the master and Trevor was turned into a statue.
He turned around and walked toward me. "You okay?" he asked me. "Yeah, im fine. I told Adam the truth about us." i said to him as i stood with my arms crossed. "You did?, What did he say? "
"He's mad, and now he's probably worring about the master. Plus, I really don't think anyone cares if Trevor is a statue or not."
"Your right about that because I don't care about him ."
"Ok. "

Next thing anyone heard was a loud scream. We all turned to the top of the staircase and Adam was there with a gun. Adam came down the stairs pointing the gun at me and Xavier. "Adam, you idiot. What's your problem!" Xavier yelled. Adam pointed the gun at the ceiling and let go of the trigger. "Now, Xavier does that answer your problem! You stole my girl!"
"Adam! I didn't steal your girl, She left you because she was still in love with me and i still had feelings for her."
He then pointed the gun at his forehead and pulled the trigger. Everyone that was there, was running out the building, while his body fell and rolled down the staircase and nearly knocked over Xavier and me.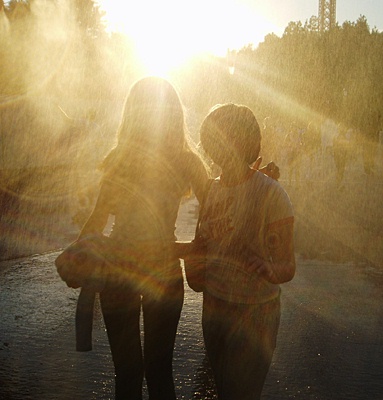 © Rebecca Y., Los Angeles, CA