Chemistry
June 24, 2011
I remember that first day I met you in science class. I was always shy, and so when everyone was picking out lab partners I just waited until someone else was left without a partner. Apparently you had a different idea, you came right over to my desk and said "Hi, I'm going to be your lab partner for the year" ignoring the sighs of the other girls in class. I tried to say, no that it was okay. But you just smiled and shook your head and said it wasn't okay.
Perfect chemistry.

After class you walked out the door with me and said that you needed my number, in case there was ever any confusion on an assignment. I found a piece of paper and scrawled my cell number in purple ink and gave it to you. You smiled, put it in your pocket and then you took my hand. Turning my hand palm up, you borrowed my purple pen and wrote your number on the palm of my hand. "So you won't lose it." Winking at me, you left to get to your next class.
A few classes later, I saw you again in English class, you sat down right in front of me, even though the teacher had a seating chart that put you on the other side of the room. Our teacher filled every cliché in the book for a strict teacher; hair in a tight bun, horn-rimmed glasses, and a pencil skirt. But she laughed when you asked if you could stay where you were sitting so you could be closer to the fire exit in case of emergency.
She let you sit in front of me.
Friday night came and I was working on homework as usual. Then you called me and said there was an emergency. "What?" "I really need someone to go see that new movie with!" I almost dropped the phone, you had just asked ME out. No one had ever done that before, "Oh, ummm…. Which one? There's a couple out." You laughed and said it was my pick. And that if I bought popcorn you'd buy the tickets and would be at my house in ten minutes…. "But, before I come to pick you up can you tell me where you live?" We spent five of those minutes laughing.
I don't remember what movie we saw, or if it was a horror, sci-fi, or comedy. I just remember sitting next to you talking one minute and then you did 'The Move'. You 'yawned' and put your arm around me and it stayed there for the rest of the movie.
Life went on like this for the rest of the school year, although we didn't just see movies. Sometimes we walked around town talking for hours about nothing and everything. Other times we just did random things, one time it was a picnic and another time we tried to make dinner for all of your siblings. We ended up ordering a pizza instead.
I remember our first fight, it was over something so stupid. I thought I saw you checking out another girl and not being the prettiest person in the world, I got scared. I thought you were going to leave me and so I ignored you for a while. Eventually you came over to my house and asked what was wrong. "What's wrong? I'll tell you what's wrong. You were… You were checking out some freakishly skinny girl with fake blond hair and..." I broke into tears, and buried my face in my hands slumping against the wall. You sat down beside me and told me that you had never looked at another girl and that if you had, none of them would ever compare to me. You lifted my chin up and told me I was beautiful as mascara ran down the sides of my face. Then, you kissed me and I realized I was in love with you and could never let you go.
The next weekend, we decided to go for a bike ride early on in the morning. You told me to pack a picnic breakfast, we were going to eat doughnuts and watch the sun rise.
Halfway there, a car came racing down the street. That shouldn't have mattered, we were way on the other side of the road, but the driver swerved and hit you. He was drunk and got away from the accident without a scratch on his face. But you fell into a coma and still haven't woken up.
But don't worry, I'll be here when you wake up and open your eyes. I'm not going to leave you and I'll never look at another guy. But not in the same way you said you'll never look at another girl.
The driver hit me too, I'm blind.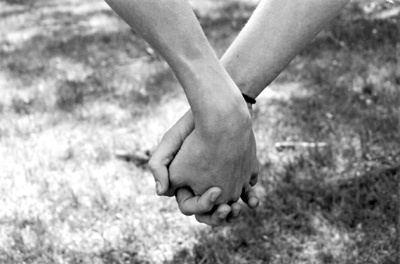 © Alexa T., Pompton Plains, NJ