A Blue Moon
April 23, 2011
I was so embarrassed getting dropped off at the party by my mom. I must've looked so stupid rolling up to the Cabin a minivan. I'm young for my age; most people I know already have their licenses while I'm stuck with this stupid permit. Life's just not fair sometimes. My parents got divorced recently forcing me move out here with my Mom. I hate it here. I've barely made any friends so far, that's why when Kyle invited me to his party I jumped on the opportunity.

The one cool thing about being the new guy in town is that nobody knows my past here. At my old school I was a complete nobody. All the kids I hung with were complete nerds. We used to spend most of our time talking about how we hated the popular kids at school with a fiery passion. I never told anyone this, but deep down inside, I've always secretly wanted to be one of them. Now that I'm here in Pennsylvania where nobody knows who I was before, I can be anybody I want.

As I walked up to the door of Kyle's cabin, I began to feel really nervous. Ever since I was little, I've had a bad stuttering problem. I can't say for sure, but I've always believed it's because Mom and Dad fought so much back then that it scared me into stuttering. I can't believe it took them sixteen years of my life to get a divorce. I could hear loud music and loud voices having fun coming from inside the Cabin. Kyle told me when I got there to just walk in. I took a deep breath and opened the door.
The aroma of cigarette and cigar smoke filled my nostrils as soon as I walked in the room. There were people everywhere. I didn't know many of their names, but I recognized their faces from class. A few of them nodded and waved at me, but no one went out of their way to make me feel welcome. Some people were playing pool, some were dancing, and some were just hanging around socializing. Almost everyone was drinking alcohol. I'm not a big drinker at all, to be honest, I've only ever had a few sips here and there. The whole idea of getting drunk, taking yourself out of the normal mindset just seemed scary to me.

I decided to start trying to introduce myself to people. As I walked around, saying hi to everyone I could, it felt like there was an antenna on my head beaming out how incredibly awkward I am to everyone. Then I felt someone slap me on the back.

"Hey buddy glad to see you could make it. Grab yourself a drink and just chill." It was Kyle. His breath smelled really bad from the drinks. I swear to God I never want to get drunk. I spotted a small group sitting in chairs in the corner of the room. I figured I might as well go sit down. I introduced myself to the group. They responded openly and one of them asked me if I smoked. That's another thing I don't think I'll ever do, but I lied and said that I do but I already smoked a lot before I got here so I'm good.
I ended up sitting there for what must've been an hour, just watching the party, watching everyone else have fun. Who am I kidding? This whole party thing just isn't my scene. I was beginning to wish I had just stayed home with my mom. Then all of a sudden, everything changed. From across the room, I saw the school's big football star, Scott Thompson. I've only lived here a week so I don't know too many people yet, but Scott Thompson was such a big deal that you would have to be blind, deaf, and dumb not to know who he was. He was screaming at his girlfriend, Hannah. She was so stunningly beautiful that she could have any guy in the whole school she wanted. It only made since that the best looking girl would date the best football player.

I sat there was a knot in my throat, wishing I could help her get out of the situation. Nobody else at the party paid any attention to Scott Thompson's anger outbursts at Hannah. I could tell she was getting angry back. She wasn't yelling, just raising her voice to defend herself from the verbal assault she was getting. Then, the unthinkable happened. She turned away from him and walked out the door. Scott just shrugged then turned to his friends to party it up, not caring at all. That jerk. Something deep down inside me made me get up. I wanted to leave so bad anyway then when I saw Hannah run out, I knew I wanted to leave too. So that's exactly what I did. I walked out, planning to just call my mom to come get me, when I saw Hannah sitting on the porch, crying. She turned to look up, and when she saw it wasn't Scott she was instantly relieved.

"Hey," she said as she tried to stop crying.

"Hey," I said, "I couldn't help but oversee what happened back there. I don't know anything about the situation but I just wanted to say that I really admire your courage to walk away from a guy that's mistreating you."

"Thanks, he does this to me all the time and I'm so sick of it. Before I walked out I told him we're done, for good this time. My name's Hannah, I'm glad to meet you." Believe it or not, I then struck up a great conversation with her. Everything seemed to flow so easily, all awkwardness was gone, and I didn't know why. I told her everything, about my parents, about moving here, about hanging with the nerdy kids before, and she just laughed. Surprisingly, she truly didn't seem to care that I wasn't even close to as cool as Scott. She even thought it was cute that I stutter when I talk. I expected her to be really snobby and stuck up, but she really wasn't at all. We just sat there, talking about whatever came to mind for about an hour before all called my mom. We decided to go back to my place to watch a movie.

I couldn't tell if she was interested in me as more than a friend, or if she was talking to me as just a friend, but one thing was for sure. We really did have a connection. It felt so natural talking to her. I told her I loved how I could just laugh and be myself around her, and she told me she felt the same way. It's still puzzling to me how all the awkwardness and all the nerves I had experienced earlier weren't there anymore. I was so glad to have met such great nice girl. Before tonight moving here felt like a complete drag. Before tonight, I thought a good thing like this could only happen to me once in a blue moon. Well, there must be a blue moon out tonight because this is actually happening. Maybe I'm going to like it here after all.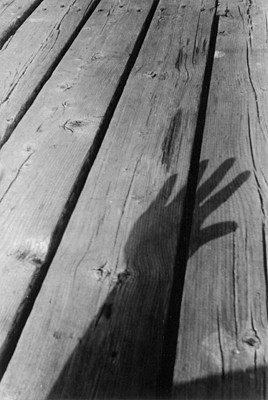 © Janet D., Marblehead, MA