That summer
April 21, 2011
I was reading on the beach when the book was yanked out of my hand.

"Get up." It was my best friend, Joy Anderson, the more outgoing of the both of us and she was my protector, since I was quiet, shy, and kind of a loner.

"No Joy. Why?" I asked, standing up and I felt tiny at a petite five three and she was a tall five nine.

"Hello? We're in Myrtle Beach and I've been watching you read my whole life, we're here for an entire summer and you're gonna have some fun. You feel me?" She put the book in her beach bag and grabbed the beach bag and me. "To boost you up, we're going across the street and I'm gonna buy you a bathing suit."

I dreaded whatever she had in mind, she was wearing a pink two-piece with a pink sarong tied around her waist, and pink high heeled flip-flops. Because of her medium brown skin she looked extremely pretty and her naturally curly brown hair was piled on her head and her pink cat eye sunglasses gave her the look of a seventeen model. "Joy, I'll look horrible." I complained as we entered the store.

"Girl, you need to relax sometimes and just have fun. That's your real problem." She pulled a bathing suit off the rack.

"This is cute, a one piece, with a sweetheart neck, which is good for petites and white is perfect for your skin."

"You read Seventeen too much." I commented, trying on a pair of retro shades that were green, my favorite color.

"See? Those would be so cute with this." She said and I shook my head. "I'll buy you the whole outfit and the shades if you walk out of here with it on… Come on girl, you'll look amazing." I sighed and took the swimsuit from her before proceeding into the dressing room. This was crazy. I switched into the swimsuit and held my white T-shirt and short shorts in my hand before sliding on the glasses. When I walked out, of course Joy had something to say.

"What did I tell you? You look like a football player's petite model wife."

"Whatever." I laughed, rolling my eyes at her. We went to the counter and the scanned the tags on the suit and shades and I took them off and tossed them in the trash before we left. Here we go. Walking outside, I had that naked dream feeling, like everybody was watching me.

"Girl, you need to loosen up. I can feel your tenseness."

"I feel like everyone's watching me."

"They're supposed to duh." She remarked. "I know what'll help you relax, a big waffle cone with two huge scoops of Cookies 'N' Cream in a waffle cone and for me, Pralines and cream in a cup."

"Well..." Cookies 'N' Cream Ice Cream was my weakness.

"Let's go." She said, reading my mind. She took my shirt and shorts and put them in her bag. We entered Cream Dream, the best Ice Cream store by Myrtle Beach, which explained why it was packed, well that and the fact it was blazing, so everybody with taste buds wanted some Ice Cream. We placed our order and then sat down at a small table. "I have an idea." She said "Find one fine guy in this room and go talk to him. It's a trick from Seventeen."

"Again, you read that magazine way too much."

"I'm serious, go ahead." I glanced around. Any guy that had potential was also holding hands with his girlfriend or wife or had kids by his side. Then, a guy walked in with a girl and sweet Jesus, he was fine. He had short black hair, you know the kind that has the bangs that fall into your eyes and he had some eyes too, gorgeous green ones that sparkled and he was tall. He had on a muscle shirt, jean short, flip-flops and on his face were glasses and I love a guy with glasses because that gives him a geek chic kinda look. "Naw, na." Joy said and I turned my head around to her. "He is fine, go talk to him."

And just like that my walking on air moment said "Deuces" "Uh-uh, he is too fine. Besides that has to be his girl and I'm no homewrecker."

"That's his sister." She said

"How do you know?"

"Uh, she has the exact same hair color and eye color. It's his sister."

"Number four fifty five!" I went to get the order before Joy could even breathe again. I came to the table and handed her her cup.

"Faith, with that bathing suit and your petite girl cuteness you better go talk to him. If you don't I will."

"I don't look like you. I don't have enough confidence to put a top model to shame, I don't."

"Stop comparing yourself to me and everyone else and go for it, because you can only be yourself, everyone else is taken." I recognized the quote from her mother, Melissa's favorite shirt. I shrugged just as a hand touched my shoulder. I turned to see who it was and saw that guy I had my eye on.

"For the record, you look just fine." With that he walked away and Joy and I exchanged shocked looks, I don't think any boy, of any color or race, would have the guts to do that.

"Looks like you might enjoy your summer before college after all." Joy said.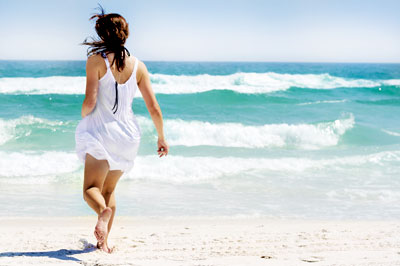 © Rebecca B., Marietta, GA