Being Noticed
November 20, 2010
They say there are no more original ideas.

They say that love has become a repetition, something we are forced to repeat because otherwise we see no meaning in our dismal lives.

Well, they might not say that last one. But I do. And it pertains not to the innocent child but to the narrow minded teen – we fancy ourselves immortal, invincible. We can't be hurt. So we throw ourselves into situations that can have no happy ending. We bring our reputations to the ground, crying over the remains of our beautiful image of immortality. We try to sift through our idealized memories, trying to figure out where we went wrong. And again and again we come across those situations, the ones we knew were wrong, knew we could never get out of without getting hurt. Again and again we come across love.



"A bit of a pessimist, are we?" asked a soft voice from over my shoulder. I ignored it, bringing my pen to paper again and losing myself in my cold world. The voice did not ignore me.

"What do you mean, 'there are no more original ideas'?"

"Will you stop reading over my shoulder?" I growled. This time, I did turn. And found myself proven wrong.

He was quite unremarkable. Messy dark hair, black eyes, skin the color of summer. He wasn't exactly broad shouldered or muscular, wasn't exactly skinny or overweight for that matter. He seemed to exist in between everything, his neutrality showing in his black clothes and the color of his hair and eyes. He existed, didn't stand out by being hot or ugly, didn't stand out at all. In a crowd, you wouldn't have noticed him. Even if he was standing alone, your eyes would slide over him, not acknowledging, not intrigued at all. If I hadn't heard his voice, hadn't deigned to speak to him, I would never have realized he was even alive. He was never spoken about, he didn't draw attention to himself by sitting alone or holding sway over large numbers of shallow teens, or by acting out and ruining his life by doing something harmful to his health or image. He was quite unremarkable.

He smiled, and leaned forward confidentially.

"What you were writing was meant to be read. But I don't think everyone is going to agree with you, so I'm giving you a third party argument," he whispered. He had glints of gold in his dark eyes that sparkled with his suppressed excitement.

"And what would that be?" I asked, trying to keep my voice flat.

"Some people do have happy endings. You just have to open your eyes and notice them."

Just like I had noticed him.

The bell rang, ending homeroom. He got up, picking up his bag and holding out his hand. Some instinct made me take it, made me smile at him, made me trust him.

Just like he had noticed me.

Something made me love him. And I didn't mind a bit.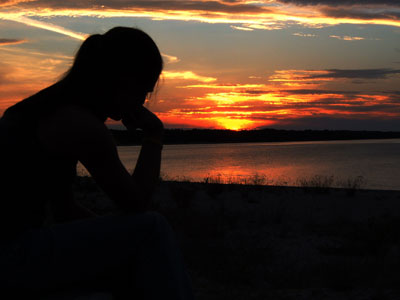 © Hilary L., Rogers City, MI