Butterflies
October 10, 2010
His soft whisper filled my ears. "I know your secret", he says. His eyes tease me like a lion amused by its prey.

"What could you possibly know about me?" I ask aloud, right back at him.

"Oh," he responded, "I know you want me."

"Excuse me? Um, I don't even know you."

"You know me well enough to get butterflies."

My heart raced. How could he possibly know? I'd seen him around, shooting hoops, well actually swishing every shot, and yeah, I liked what I saw. Confidence, but humbleness. A sweet smile, but serious eyes. A helping hand, but a strong arm. I like shooting hoops too. They swish, well most of the time.

"Butterflies?" I question, knowing exactly what he means.

"Yeah butterflies, Babe. You want me, but you don't have me… yet. You gotta' get me to make them release into the sky."

"That sounds like a cliché pick-up line and I refuse to give in to it." I retaliate.

"Fine, but those butterflies are only gonna' flutter harder, until you burst, and well that may not be pretty. You know, some people die from butterfly attacks."

"Yeah, so if I die soon, you can say you're responsible."

"So you do have the butterflies…"

"I thought you already knew that, but for future reference, I don't."

"Okay,"
was all he said.

And with that my butterflies fluttered, then ceased to flutter, realizing my chance to have him had slipped away.
I know they're still there inside me, but will they ever fly? I wish I could get an answer but right now, the ball is in his court. I watch him, noticing the way he controls the ball on the floor, coolly composed and content… without me.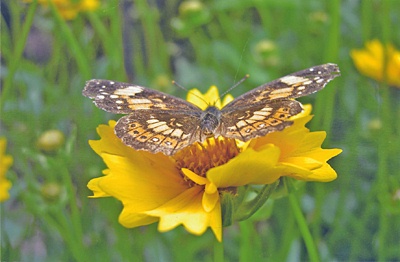 © Michael T., Letart, WV