Allergies part 2 1/2
October 13, 2010
"the truth is...........that i have a severe allergy to the sun" Greg said. i couldn't speak. Mixed emotions were flying everywhere. i had heard many excuses in my lifetime, but neither was this far-fetched. It was impossible; the sun was vital to life.
But at the same time it was also impossible for it to be a lie; how could anyone lie about something so serious?
Throughout our awkward silence, Greg finally spoke. "Yes, Renee, it's true. i wouldn't lie about that" his voice sounded strained & hurt by the possibility. It was as though he read my mind. i suddenly felt VERY guilty. He continued "when i was a baby i had a blood disorder. One unexplained. i was just born with it. i cant see the sun up close, cant go outside in morning. i cant help it. My house is ugly, which is why u never seen it. my allergy is why we never go on dates in dawn". His voice was trembling; it was difficult to talk about. Shock & fear replaced my wave of emotions.
i stuttered "N-n-no!, no!"
it couldn't be real.
i could almost feel his tears on the other end of the phone. And i knew my answer.
i felt more passion then i had ever felt in my entire life. i didn't know if i didn't believe it or wasn't ready to. I've never heard anything like it. And i thought my peanut allergy was bad.
Here was an incredible man, who could never see the sun, never bask in it's glow.
Then i REALLY started to consider it.
He really cared about me. It wasn't easy to tell his allergy. He probably didn't tell everyone. But he told me, despite how hard it was.
Dang it, i could've just ran over and kissed him.
i could feel my tears brewing just as he said, voice soft, beauty vibrating "Do you want to see my house?"


That night, as soon as the sun went down Greg was at my door. i was ready. "Come on" he prodded, sounding much more lively then over the phone. Then i realized: our phonecall was in the morning. If he could only go out at night (meaning sleep in the morning). He must've been so tired. And yet, he stayed up. To talk to me.
That was about the sweetest thing anyone's ever done for me.
i nodded.
We walked a pretty far distance, out a few nearby towns, to countryside. i thought we were never gonna get there when he stopped. i looked up. There was an old, huge mansion hidden under an oak tree. The windows were boarded up, and it was hidden in the shadows. i barely even noticed it. i realized, THIS was Greg's home.
He took my hand. Sparks flew in the air, as we slowly made our way to the door. i shut my eyes for the surprise. And was i ever surprised. "It's BEAUTIFUL!" i exclaimed.
There were lights everywhere, candles, or just headlamps. The whole room held a soft glow. There were paintings everywhere, a mini TV, all the normal stuff and MUCH MORE. The whole place was just.........beautifully breathtaking. i gasped (despite how girly it was!). There was a picture, the pic G took of me at the concert, hand-offs. The pic was in a frame in the living room, in the center of it all.
OK it was official: Greg was the sweetest guy on the planet.
And he probably didn't take alot of people up here. i couldn't help it. i looked into his gorgeous eyes, leaned in, and kissed him. In the bask of the glow of the room.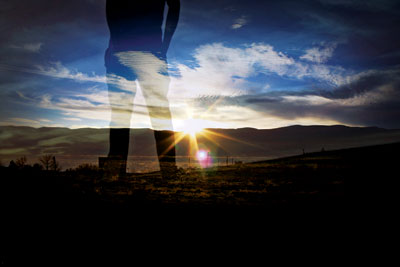 © Ezekiel R.