Summer Dreams, Winter Nightmares
September 24, 2010
I laugh at him, as he treads water in out favorite spot to swim. The sun is just setting and his brothers are playing with the Frisbee on the beach. We are the only ones left in the water.
The sky is filled with brilliant reds and oranges, and pinky puffy clouds. The mountain across the other side of the lake looks like a dream in this setting.
I sit on the raft that resides in the middle of the cove. I hang my feet over the edge and splash him as he is coming up the latter. When he finally gets on the raft… he pushes me in to the water, and as I come up he cannonballs right near me, splashing me again. I am still laughing my head off.
"Hey!" I exclaimed.
"Hey what? You splashed me, I splash you!" I smiled, knowing that this was true. Getting back on the dock… I proposed something to him.
"Diving Contest." I said. By saying just those two words we got into places. He went first, diving into the black water with the green trees reflecting off of it. We went all the way to the Lilly pad field, which was about the size of a basketball field away. I could beat that.
I got a running start, and leaped into the water, and then I swam as hard as I could. I opened up my eyes under the water, and looked to see if I was going past him. I reached him, and came up, knowing that I could no longer hold my breath.
This is how him and I spent our summers. Playing go-fish, and cracking up while we did it, swimming till we could no long move our legs, and running around the neighborhood till he had to leave or till I had to go back home.
During the summer I always had five meals a day. A breakfast at home, then at his house he and his family would always welcome me with open arms, making extra food for every meal. He always insisted that I ate. Lunch was also at his house and then dinner at both places. It was a great life.
Now that the winter is coming, he won't come to my house anymore. He will go back to his real home, with his real girlfriend and his real friends. The summer for me is merely a dream, and the winter, a lonely sleep.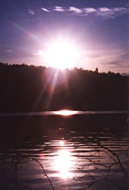 © Laurie T., Hopkinton, MA