A Web of Silk
August 20, 2010
On the bench is a girl whose uncombed blond hair is burnt crimson at the fringed split ends. Her flowery sundress is bright and her skin, while flawless, is grimy and gray. On her lap she holds a petite silver shoulder satchel. Her eyes are staring into empty space like she doesn't understanding something vital to her, like she needs that understanding more than she needs or wants anything else in the world. Her eyes are blue like the sky and transparent like a sliver of glass from the sea.
Next to the girl is a boy. His arm is draped over her slender shoulders, holding her close as if she is all he has. As if he never has had someone worth clinging to the way he clings to her now. His face is narrow, his jaw unshaven. His brand-name tee shirt has a tear in one sleeve. Fear reverberates in his hazel eyes, bringing him near the edge of the cliff of insanity. How easy it would be for him to fear just a little too much and slip, fall, disappear into the shadows of the insanity cliff, all due to the terror that dwells within him.
Why her with the empty sad eyes and the desperation to understand?
Why him with the heart like a strainer, him with the interminable hazel fear?
She is sheltering him from the wind that threatens to toss him off the cliff like a pigeon's feather.
He is fighting off the questions to which she has no answers with all the strength he can summon.
Together they are spinning a web to shelter them from questions they don't want, to keep them out of the wind, to glue them together.
A web of translucent colors and protective silk. A web of love.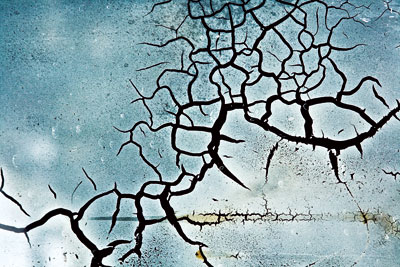 © Scott B., Chester, CT