Golden
June 7, 2010
She strolled languidly down the brick walkway, her gait slow and even. The sun had turned a brilliant, rich shade of burgundy and sunk low in the sky, now just barely above the horizon. Its rays of red light stretched across the planet, embracing the golden summer landscape with their glow. She closed her eyes, smiling faintly, absorbing the warmth and light of the sun. Thoughts and memories of the day's events swirled through her head like sand in a desert storm, but she was comfortable because her heart swelled with happiness. Remembering, she felt his hand on the small of her back, and the light, gentle touch of his lips against hers. In her mind, she gazed into his vivid blue eyes... what was it she saw there? Care? Wonder? Anticipation? Was it... love? She felt his heartbeat when he pulled her close, kissing her more fiercely, his tongue pushing its way between her open lips. Pulling herself back into the present, the colors of the bright sunset seemed to burn brighter for a moment. She decided that she never wanted to lose the memory of that moment. Her first kiss, even her first boyfriend, and yet it had all seemed so momentous. So loving. So significant.

She pushed her hands into the pockets of her loose khakis, stained with various shades of paint in places. For once, despite being in the presence of a view as beautiful as the sunset over the hilly meadow, she did not feel the urge to sprint back to the main building and grab her canvas and acrylic paint set. She relaxed just standing there, preserving the view in her own mind, better than any painting.
Her mind drifting hundreds of feet above her, lost in the cumulus clouds, she walked over to the top of the grassy hill she stood at. She sat, cross-legged, in the sand. Crickets chirped shrilly all around her, a lazy yellow bumblebee flew by her head with a murmuring drone. She remembered a painting she'd seen in a gallery one time, a striking Mary Armstrong watercolor that she'd tried to replicate a few times: A flaming orange sun setting behind rolling hills, almost identical to the breathtaking scope that lay in front of her. She contemplated this for a long minute. Yet beyond her every thought, like a welcome blur over her every emotion, were memories of him.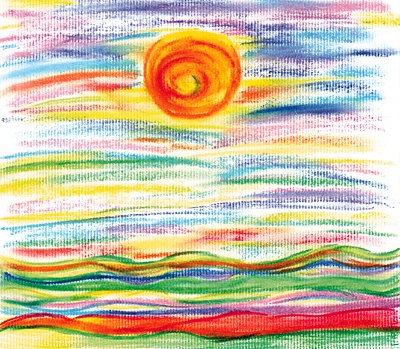 © Jennifer W., Saint Albans, WV