In the arms of an angel
June 2, 2010
Valor looked at the picture above her bed. She should be able to take this. Her momma died… her sister died… she was alone in the world. Why couldn't she grasp the fact that Bandy was dead, gone, never returning to her. Why couldn't she grasp it? Was it that her sister had just died six months earlier? Or was it that Bandy always seemed so big and tough that a bull couldn't kill him off?

Darius Rucker played on her iPod on repeat. She couldn't stop listening to "their song." The tears streaked her face. She wasn't ready to take this head on. No one could comfort the young girl. Her dog lied beside her, whining. Almost like he knew that Bandy wouldn't return. Valor petted his head, and cried. Bandy's dog Candy was whining as she licked Valor. She too missed Bandy it could be seen in her eyes. It was like the dogs and the horses knew that Bandy was gone, to never return. Bandy's horse stopped eating, and would constantly look around for him. She was use to Bandy feeding her.

Valor couldn't take just sitting around. She had to do something, and decided to go riding. Taking her iPod off the dock, she allowed the songs to play through. She was going to take Rose out one last time before Bandy's family took her back, she just wanted to spend some time with her before she had to go. Rose was the last horse Bandy rode before he past. "Easy girl…" Valor cooed, swinging on bareback. A fresh blanket of snow was on the Wyoming ground, as she decided to go on her favorite trail above the highway. She wanted nothing more but to attempt to enjoy her self on the trails.

The young teen happily left the boarding stable were the horses were kept at the boarding school, she was happy to get away from the feeling around her for a minute. While they were on the trail a song played that made Valor cry. It was the song that was played at Bandy's funeral, In the Arms of an Angel. Valor couldn't see where they were going, and Rose spooked. The ground was slippery from the sun beating down on it, and the two went sliding down a hill, into the traffic on the highway.

When Valor opened her eyes, it was like she was having one of those out of body moments, and she could see everything around her, paramedics were performing CPR, and trying to get her to breathe again. Bandy's horse laid a few hundred feet away from her, and wasn't moving. She could see the bullet hole in its head from her being put out of her misery. "Call it death… poor thing." She heard some one say about her. She looked up and saw a light, and in it she saw Bandy and Rose. Bandy ran to her, the facial injuries from the bull couldn't bee seen. He looked like his usual self. They stood there hugging for a long time, until Rose came up and nuzzled them wanting to go. Valor climbed on the mare in front of Bandy, feeling his arms wrap around her she smiled, riding off into the light, turning Rose around for a second to look at her old life. She was in the arms of an angel, her angel. And this was how it was meant to be. A story like true love meant to be. Before they turned around to go into the light, Valor kissed Bandy's head allowing her tears to flow. He reached up, wiping them away, and whispered, "You are in the arms of an angel. Don't cry baby." He nudged the horse forward, and looked back one last time at what once was, he was ready to begin his after life with his girl.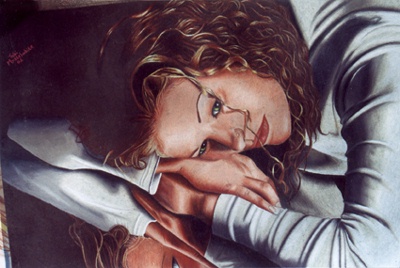 © Tabitha M., Kannapolis, NC