Journal Entry 32
May 2, 2010
Wouldn't it be amazing if dreams came true? I think it would, because then I wouldn't have to wonder and be afraid to take a chance. I would already be in his arms like I was in my dream last night…

Leah and I were walking towards the school one morning, a little earlier than we usually were. I was talking about Jared this guy I'm practically in love with and I was loud. I didn't think anyone was around but then I heard someone give a sort of half cough. I turn around and there he is. Jared.
"Oh god," I mumble as my eyes go wide with humiliation. "How much did you hear?"
"You love my blue eyes," he replied, smiling as if it was the funniest thing in the world.
Of course that meant he heard my entire conversation. I cover my face with my hands to hide the increasing heat of my skin. Jared laughs and I feel his hands pull mine away. He doesn't let go just stares into my eyes. He draws me into his chest, leaning down to kiss me. His soft lips press against mine, gently at first then increasing until my lips part. With my heart galloping in my chest and no thought of what was happening my hand slides up to cup the back of his head. His hands on my waist pull me closer to him.
Our kiss is so passionate. Everything I thought it could be and more. Why was I so afraid of telling him how I felt before? My heart was ready to burst with emotions as it sent out tendrils of hope and desire towards him. I was hooked, no doubt about that. I was in love and there was nothing anyone could do about it.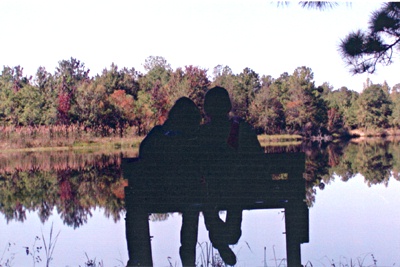 © Heather J., Slidell, LA