Eileen and I Chapter 1
April 27, 2010
She curls into me, cuddling closer against my bare skin than ever before. Her hands find purchase in the curls of my hair, and they take full advantage of this minor victory. I feel my back arch infinitesimally and the air flees my lungs quickly but, unfortunately, not quietly. Her beautiful laugh breaks the absolute silence of my room. "What's so funny Eileen?"

"I know what I'm doing to you; I know how I'm making you feel." Her voice is more beautiful than a church choir.

My room is dark; the only light beams in from outside my window. This soft luminescence is just enough to enable my eyes to pick up hers. Due to the darkness, the black of her pupils nearly drives the hazel color from her eyes. I kiss each of her eyelids before whispering quietly in her ear, "And how exactly do you know that?"

I feel, rather than hear, her laugh this time. After she stops laughing though, she remains silent for a long while. Knowing it is pointless to ask again if she doesn't answer the first time, I merely rub the tips of her fingers and gently run my hand down her spine. Her breath, warm and soothing on my skin, catches for the minutest amount of time before picking up its pace. Now it's my turn to laugh.

"No fair," she mumbles, "you know I can't resist that." Using the full power of my sweetest smile, I kiss her and she smiles at me. We lay in each other's arms for a long while, probably an hour or more, before she speaks again. I know because I can feel it.

I frown, not entirely sure how to respond. Eileen has never been particularly shy about anything relating to our sexuality, but neither has she been blunt like this before. I decide my best, and safest, response is a question, so I use my therapist impersonation voice as I say, "And how does that make you feel?" We both laugh.

When she speaks again, her voice is serious and contemplative. "I really don't know. I kind of like it, but then again, it reminds me of just how all of this," she gestures around my room and then at the two of us, "could turn out." The longer she speaks, the faster her words become until, finally, they blend together and she trails off with her eyes downcast. I wrap my arms around her soft, delicate waist and pull her closer to me. "Love whatever else may happen, that won't. I promise." She almost seems reassured, but then her face twists into a grimace; tears form in the corners of her eyes. "Hey now," I say softly, "what's this about?" She says nothing, but the tears flood her eyes and begin to spill over; they are warm against my skin. I am bewildered for I can't possibly imagine what I said or did that triggered this reaction, and I am beside myself in fear that I may have hurt her. I am unsure about whether I should hold her closer, or slide away and give her some space, but she solves this dilemma by wrapping her arms around me tightly. "I…I'm sorry," she says.

"Eileen, please tell me what's wrong. Please tell me what I did."

"You didn't do anything. I'll explain later, just not right now. Please."

"As you wish." She smiles softly and kisses my arm, allowing her lips to linger momentarily on the exact center-point of my elbow. She starts drawing circles in the palm of my hand, but it seems more preoccupied than anything else. "Eileen, I love you." Her eyes light up, becoming candle-like immediately.

"I love you too."
It amazes me that no matter how many times she tells me she loves me, it still makes me smile and fills me with a giddy feeling every time I hear those words. Her fingers stop running endless circles in favor of softly tracing the veins in my arms. Up and down, up and down her fingers move on my arm; they leave goose bumps on my skin after they pass. I like this, but I stop her anyways. After glancing at her face and taking in the worried set of her features, I lift one of her fingers to my mouth and set it just inside my lips so that my teeth barely brush against her skin. Even in the dim light, I can see her smile.
It is now past one in the morning, so I begin to sing Snow Patrol's, "Chasing Cars," while also resuming rubbing her spine. She sighs, admitting defeat in a battle that hadn't truly even started. "I love you," she says. Unwilling to break my song off, I smile and nod, and I know she understands.
Before the song ends, Eileen is asleep. Her breathing, low and steady, is a huge comfort to me. Gradually, I too fade into oblivion. My dreams consist of the beautiful girl in my arms, and I sleep well.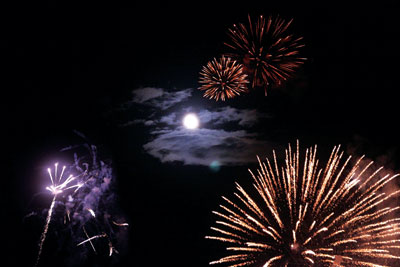 © Meena K., Groton, MA