I remember.
April 10, 2010
You were there for me when I was crying.

You were there for me when I wasn't okay.

You were there.

Five years ago on this very exact day, you were there.

It was a bright, sunny day in California, not rare at all.

We were going to the park that day. You said we were going to run around, have fun and enjoy the day.

You said you'd buy me icecream, but only if I could out-run you in our little race to the swings.

You said.

But what happened?

That one day, that I thought would be just another great day with you ended with a tragical outcome.

You were too close..not paying attention. All you were trying to do was pick up that little bird in the street who could barely walk..

And then it hit you.

I don't remember much of it, but I do remember those blue and red lights that came when someone called 911. I remember the screeching tires of that black SUV when that driver realized he had not hit something small, but a person--that one person being the love of my life.

I remember sobbing in that ambulence, hoping and praying that you were alright.

I remember them trying to revive you, pumping and pushing on a soul-less body, no life left in it at all; not even a single breath or heartbeat.

And then you were gone.

I never thought I'd lose you.

I always thought you'd be there for me.

But you're not anymore..

And now..?

I'm alone.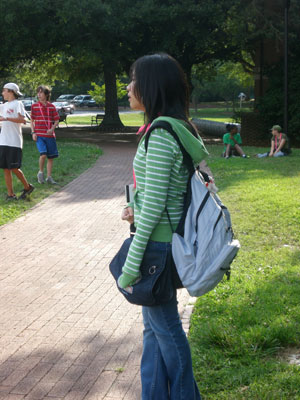 © Lucienne B., Parkland, FL