A Moment to Live For
April 3, 2010
Today, mom isn't feeling well. Her head hurts, and all she wants is to lay quietly on the living room sofa while the medicine begins to work. Despite her headache, she agrees to let him come today. Nothing could have worked out better. I love mom and I'm sorry she's not feeling well, but I don't need her hovering, constantly checking up on us.
He and I make sure there's nothing else we can do for mom, and she thanks us anyway. We depart for the family room.
Alone. Finally.
Standing in front of the sofa, he holds me in his arms and looks into my eyes, smiling. My heart soars, beating so hard I'm sure he can hear it. His blue eyes, nearly covered completly by his long, light-brown, gold-tinted hair, smolder with the love that mirrors the feeling that is burning in the pit of my stomach, making my heart swell. Today, we won't be interrupted. Only we exist together, in our own private moment.
He holds me, then gently kisses my lips lightly. Pulling back, he smiles. "Don't make a sound," he whispers in my ear. Suddenly, I'm falling forward, his arms still wrapped around my waist, my arms still around his neck. Remembering his warning a few seconds before it was too late, I stiffle a scream. I land gently on his chest, feeling the soft, velvety material of the sofa beneath my hands. I laugh and he joins quickly. When we stop, I just lay there with him, eyes closed, inhaling the sweet, musty smell of his cologne, feeling his warmth under me.
His fingers stroke my back. In my ear, he whispers that he loves me. I lift my head from his shoulder, tangle one hand in his hair, press the other to his cheek, and pull him into a kiss that seems to last forever. My mind fogs, I can't think, can't remember who I am. All that is real, present, and known is his lips moving interminably with mine, the smell of his hair, the heat, the pull we had on one another.
That perfect kiss ends, and I burry myself into his shoulder again, whispering that I love him. He holds me and says, "I know. I love you, too, always and forever, my beautiful angel." At those words, I feel the tears well up in my eyes. I love him so much, and to be loved equally so by him seemed impossible, but I hear the sincerity and honesty in his voice, and I know it is true. To know that this moment eventually needs to come to an end, that he needs to go home to his family soon, leave me for any amount of time, nearly breaks my heart. I would miss him so much.
But I'm not going to ruin this perfect moment with tears. I kiss him again, briefly, but so sweetly. "I wish I could make this moment last forever," he says. Then, as if on cue, we spring apart as we both hear mom walk into the kitchen. She came in to check on us, but left quickly. And just like that, our moment is over. Sitting side by side, he holds my hand. He sighs, and I know he is just as sad as I am.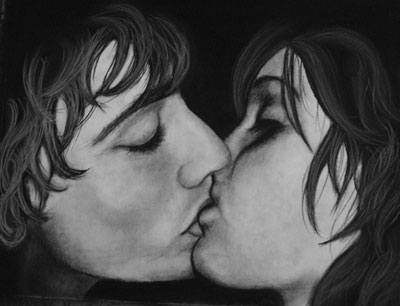 © Anna Y., St. Robert, MO