Wolf, part 1
November 12, 2009
Alex


For the first time I felt completely alone in life. I shouldn't feel this though, I should be

thrilled. It was my first week on the job! I am out of school forever, never have to stress about

another big test or exam, I don't have any family so I don't have to bother to write or call

anyone except Caleb my boyfriend, I had my own cabin to live in, or share with Caleb. And I had

some breathing space for awhile to unpack and get settled into my cabin before he came up

next week to occupy it too. Tomorrow was my first day as a Sherpa, I would get to show some

tourists the trails of the surrounding mountains I knew by heart, and I'd get paid for something I

really wanted to do. Then when it got colder and snowed later in the year, I'd be able to teach

rinky-dinks how to ski. This was my new life! Then why was I so sad and alone at the moment?



I needed a dog really bad- or at least Caleb to occupy the empty space on the couch, table

or roll-out-mattress that was the only thing I had to sleep on at the moment. It was just me though,

surrounded by boxes to be unpacked and the native animals of the reservation.



The chilly fall air wafted through the window bringing the scent of sweet, wet fall leaves

and sappy pine-cones and the ever constant smells of fire smoke that made me sigh happily. Gosh

I loved the scent, and the familiarity of It made me smile and helped fill the un-welcome

loneliness. I shivered in my poncho, rubbing my forearms where a goose-bump civilization had

formed. I stretched getting ready for bed, my muscles aching and yearning to be worked a little.

I ignored them, they'd get plenty work tomorrow lugging tourists bags up the mountains. Right

now, I took out my copy of White Fang and set some water over the flickering fireplace. A little

old-fashioned, I know, but I had no electricity and I really didn't favor the t.v. I liked the computer

though, I needed Itunes and email to keep me sane.



My stomach grumbled, clearly resentful that I had ignored it to do some paper work on the

reservations native animals. Just part of the job though, I guess.

I rolled out my sleeping bag, extra large, extra cozy warm, and it always ended up making

me sweat. I tossed a tea bag into the bubbling pot of water, not really caring that I should eat

something for the upcoming day. I was too tired to eat anything.



I laid back in my little cocoon or warmth, adjusting my back on the hard rock floor, and

letting the cool scents of fall come through the open window, hoping that a moose wouldn't stick

his nose through the window hoping for a corn muffin. In the distance, I heard the faint cry's and

howls of wolves start to go off through the night. I sad lonely call, just like how I was at the

moment. Then other grey wolves erupted into the night responding back to the distant wolf. One

was so close to my cabin that I swear it was right outside my door or window. God, I should have

closed that window! But I really didn't mind, I wasn't even scared at all. It was comforting to me,

like my Algonquin ancestors were calling out to me through the spirit of canine. It helped me to

relax. To center my buzzing mind around one problem at a time to help me reassure myself.

Tomorrow I would be out on my first tour through the mountains, guiding tourists to the cascades

to the north and back, to look at the native moose or buffalo, or in a safe distance, a bear. We'd

sleep in the White river camp sight just below the falls, and the next day we would be heading

back to town, Atikokan, where I was born and raised. It was the closest town possible, and it was

also where I would meet Caleb in a week so he could come move into the cabin also. I hadn't seen

him in ages though! The last time I'd seen him was when we went to Italy on our summer

vacation to Venice. Since then, he'd been on a "mission" in Yellow Stone observing an albino

baby bear and recording grey wolf's nature for a wildlife journal on the internet. But he'd be back

soon, taking a permanent job as the local animal protector guardian guy, as well as my right-hand-

man. God I missed that cuddle bear some much! I know, nature weenies come up with weird

names for our lugs, but still, it fit.

I sat up in my sleeping bag, taking my mug and dipping it into the caldron of tea. I took a

giant swig, scolding myself for not thinking straight as the water scalded my tongue. Another wolf

sounded off outside my door, and I grabbed my book for reassurance on the subject. I quickly

tossed my remaining tea into the fire and laid down to sleep, letting my mind wander off to the

mountain tops.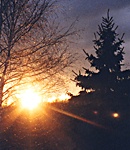 © Christy S., Germantown, NY