Secret part 2
October 17, 2009
"Cleare…" Jake called walking into the front door of her house without knocking, like normal. He had told her something the day before and she had run off in a shushed silence he knew to be fear. He had searched all over for her. He tried her house, here, first but she wasn't there and none of her friends had seen her since they had seen her with him the night before.
He called out her name once more before walking completely in the front door and switching on the lights. He took in a deep breath as he observed the surrounding. The place had been ransacked, pillows thrown all over glass broken tables turned over. They knew that she knew.
Jake Sprinted up the stairs throwing open Cleare's door and bursting inside in a split second. This room looked the same as the rooms downstairs. A knot grew in his throat as he reached for the tiny black cell phone in his shirt pocket. He was shaking so bad he could barely dial the numbers right and kept having to restart. Finally he got the number right and put the phone to his ear just as someone answered the other line.
"Bonjour?" silence."Bonjour? Hello Jake??" he couldn't speak to this voice. This is exactly who he hoped would not answer the phone and his heart was thumping violently.
"Hello Chantal, I am looking for Carel have you talked to him?" she laughed on the other end of the phone and he had the urge to rip her perfect face apart piece by piece. "Chantal are you going to let me talk to him or are you going to play with me all day long this is important!"
"vous obtiendrez-vous de lui parler, que voulez-vous?" He truly hated when she spoke to him in French he couldn't make all of it out but this he understood as "you'll talk to him when you tell me what you want"
"You know what I want Chantal stop playing these games he has my girlfriend!"
"Well my darling you truly should have thought about that before you told her our secret what were you're reasoning's for that anyways? You do not love her for if you did you wouldn't have risked putting her in danger. You disgust me and this conversation is over. You know what will have to be done now. I hope you're happy with yourself. She is quite lovely too… pretty skin, blushing cheeks, beautiful eyes. It's a shame, really." Click, the silence filled the phone and Jake shattered it under his grip throwing the pieces to the floor.
Now he regretted having told her… the secret he told her scared her away and now he didn't know what would happen to her.
Not only could he hear her thoughts, his mind had been altered to have heightened senses, worse than that was that… he killed people. The people who had changed him had taught him to kill and that was all he knew of… he was thirsty for energy every day. He was worse than a "vampire", worse than a serial killer. All he wanted was to be normal but that would never be. He knew what they would do to Cleare; he knew how she would be once they were done with her. And he'd be damned if that happen. Swiftly he ripped off his energy sensor throwing it to the ground. He had a few hours at the most before he would die... and he was going to make sure he saved her first.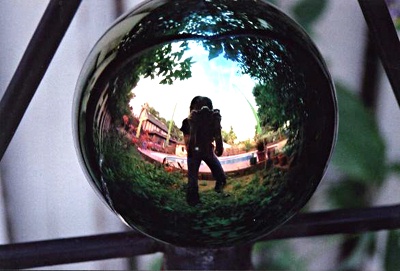 © Alexandra T., Chelsea, MI