From Nothing to Everything.
December 12, 2021
Do you know? Some people come from nothing and gain everything. These people have that hunger for succeeding in life and achieving the spotlight. I have a story about a 19 year old who got rejected from every single person and job but still managed to get that spotlight. Let's start from the beginning.
It was his first day at St.Stephens College. This university is known for it's strength in Liberal Arts. When you enter the college life, you always get nicknames which gives you some unique identity in college. This person's name was David Fernandez who was known as Dylan in Delhi University. He joined the college to major in History but he was fascinated by the world of literature and music. Music was everything for him. If you ever entered the college to search Dylan, you would have found him practicing in the music hall. His passion for music gave him the personality of a popular musician in DU. Within the end of first year, he created a band and named it "Heaven's Door".
There is a very famous saying " Behind every great story, there is always a woman". This quote turned into a reality in Dylan's life. Dylan's second year started and first year students had their preparatory classes. This was the day when Dylan first met Noorie, she was an English Honors student. That day, all the first year students had a freshers party and second year students were also allowed to enter the party. Dylan with his band entered the party. He went to the bar counter to get a drink for himself. There he saw Noorie for the first time. Noorie was laughing with her new friends in the party. After some time, her friends left for home and at the very moment, Dylan got the opportunity to sit with her.
Dylan went towards Noorie's table. She looked up towards Dylan when he asked for a seat in the table. Noorie agreed with him and asked him to sit with her. That night, they spoke for hours about art, literature, her experience in Boston, then in Delhi and about music. At last, Dylan got to know that Noorie knew about him from the first day only. And it was obvious because Dylan was the college-heartthrob.
After that freshers party, Noorie started to follow Dylan on instagram. They started to have late night conversations. Soon, they became best friends. But the whole college was thinking that Dylan and Noorie are dating. But that was a rumor.
One day, Dylan suggested Noorie to have some college level fun such as going to pubs and discos, attend bad-night concerts and all crazy things. They started all the fun with a simple ritual. Actually, the fact was that, Dylan never drank alcohol before. So Noorie gave him a dare to drink indian("DES-I") Alcohol. He drank it and after that he got a little high. At that very moment, Noorie told Dylan that Noorie was about to get married to a rich guy. She asked Dylan to be her best man. Dylan got very excited about the news and agreed to become her bridesmaid.
But unfortunately, Dylan's family didn't allow him to travel California because his family had a very weird perception about foreigners. Moreover, they didn't like Americans and Europeans. So they refused Dylan to give allowance for his passport. But Dylan was very desperate to attend Noorie's wedding. So he decided to make his passport from the immigration office and sneak out of the house to catch the flight.
It was 12AM, Dylan sneaked out with his big backpack and called a taxi to reach airport. After spending 1 hour in immigration queue, he was finally sitting in the plane. He was feeling excited and nervous at the same time.
Next Morning, he reached San Francisco, California. Dylan opened his whatsapp and saw Noorie's message. She texted her address in the message. He showed the address to the cab driver and soon Dylan was standing in front of big villa.
There were many people inside the villa. Everyone was helping each other to make the wedding a bash. Then Dylan saw Noorie, standing near her window. She called him up. Dylan was offered a drink and they two started chatting for hours until it was late afternoon. The wedding started in the evening. Then suddenly, Dylan's phone was ringing. He received that call and unfortunately it was his father. In that call, Dylan's father threatened him to come back immediately.
Dylan packed his bag and left the wedding without even saying goodbye to Noorie. He blocked her number. Fortunately, the next flight to Delhi was soon.
Next morning, he reached Delhi and headed towards his home. After reaching home, Dylan saw his father. He was very angry on Dylan. And it was obvious because he broke the 200 years old family tradition. At last, Dylan's father kicked him out of his house with all his belongings.
He had nowhere to go. Then, he decided to stay at Dargah(Prayer place for Muslim people). He loved that place because he got a place to spread his music through folk and fusion bands there. Soon, he was getting noticed by every famous musicians. After some days, he left that place and went to his uncle's place who loved him very much. Dylan's uncle told him to continue his career in music. Dylan started to play in local functions. One day, he was invited by a music label company. Finally, he got his first break.
Dylan became a household name in India. Everyone loved his music. But he wasn't really happy, because Noorie wasn't present with him. He started to find her and finally he got her address. She was living in London. Dylan took a contract to record all this music in London.
After two days, he was standing in the land of London. He took a taxi and went to Noorie's house. There was a caretaker in the house. He said that Noorie was admitted to the hospital last week. So, Dylan headed towards the hospital.
When he reached, he found out that she was suffering from brain cancer. He got broken. Dylan was also informed that she only has few weeks to survive.
Finally, he mustered up the courage to go inside the icu chamber to see her.
Her eyes were open. She could see Dylan. They spoke for hours about their memories in college. Lastly, he conveyed his love for her. And she also reciprocated her feelings for him. After saying this, she left for heavenly abode.
For the second time in his life, he faced pain. He broke into tears when she left this world.
Bob Marley once said "One good thing about music, when it hits you, you feel no pain. This saying turned into a reality in Dylan's life. Soon, he became a internationally proclaimed artist. But he wasn't happy of all his success because Noorie wasn't there for him. He felt alone and lonely. At the end, He had everything but had nothing.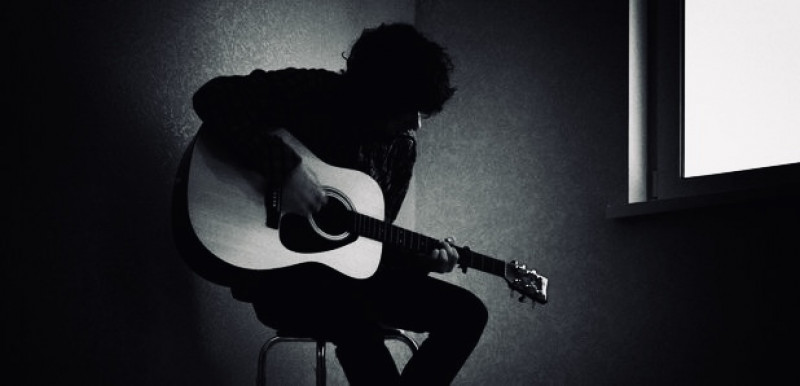 © Ayush B., Kolkata, Other