You Don't Hurt a Butterfly
November 29, 2021
He was like a butterfly. Soft brown hair, and those blue eyes that glistened so bright she would have thought she saw the future. The way his brown wavy hair flowed made her swoon. His olive skin tone complemented the little freckles that were scattered across his blush cheeks and nose. Even the unimportant things didn't go unnoticed by her. Like when he did not understand something, and his nose slightly scrunched up. She even noticed when he would doodle in his notebook when he was bored. Her favorite things about him could go on forever, like how he brought her a flower and a cup of warm black coffee every morning or even read with her when he didn't feel like speaking.
She would have done anything for him, as she was his moon that orbited his planet. He drew her in, fluttering around in her stomach and made her feel free. It really was the time of the butterflies, and she just wanted him to know how much she loved him. Those pink round lips felt like an addiction, and she wanted an overdose. The way he would make her feel like there was a light at the end of a tunnel. He made her feel magical.
She loved watching him laugh under the auburn trees, just as much as she loved watching him run into the September leaves. His charming remarks made her fall for him even more than she already was. She had never smiled more around anyone else but him. She had imagined telling her future kids about her love for him. She wanted to prove that she could be loved by someone like him.
But her desire for his love was her untouchable; something she wants but isn't allowed. She reaches for it every day and feels her fingers skim the idea until he pushes it on a far shelf. Her mind tricked the idea of his love for her, thinking he has this feeling, but he never has. He flies into her world only to play with her heart like puppets on strings. He saw his toxic habits as fun games to play. Legend says not to kill butterflies for they are beautiful and elegant, but what are they on the inside?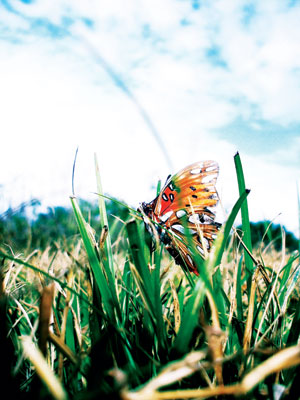 © Anonymous