Top Of The World
April 25, 2021
I remember sitting in a classroom for many years of my life.
I'd always sit where I could be seen if I so chose, but never where
it was obvious that such a seat would be mine. I sat alone. I remember
falling in love for the first time- my lips lapped down the seeping blood
and I remember that feeling, always. There is a history in every line, and the painter seldom pays tribute to the damned. It was
beautiful, my first love. It was meaningful and alarming and
unexpectedly painful. The classroom was daft and airy. Sometimes,
I think about it during sex. I think about the prick of the sharpened
blade against my finger. I have an apartment on fourteenth street where
I go when I pretend to be in love. I think of the daftness, of windows; I
buy fresh lemons to display in the kitchen despite the outrageous pricing,
even in winter. I go to school and I sit in different rooms wearing different colors than I did last year. I buy lemons and go to school and am asked questions about myself I'd never had thought of.
They never ask about the classroom or the lemons. Not even about
the sex. No, they ask me to keep pushing, so long as I never reach the end.
They ask about my heart. They try to match its beat to a metronome.
No one questions the daftness of it all. I remember falling in love
for the first time. I remember falling out of myself, remember
stumbling carelessly out of a bar and into the arms of every self-sacrificing
atom, buzzing around my hollow skeleton. I remember running out of pinot.
Out of poetry. I remember, all of this, during a particular instruction on philosophy... or geometry. "Two people exist parallel to one another,
never crossing paths but touching fingertips all the way. One must let go of the other in order to survive, but the other will be pressed to dust.
What is the correct answer?" Maybe we were charting stars.
I think I felt my throat close up. There is such resentment as lovers-
such scrutiny beneath the virtue of giving and giving.
They don't ask about the lemons. I beg them, I am an artist.
They cannot comprehend the openness. They do not ask, so I tell them,
about a pricked finger and stained red wrists and pretending to be in love and falling out of yourself and of Starry Night crashing up against the parallel line. I paint a picture of mucus burning hot in the crescent moon of your upper lip and bouts of dish-shattering rage and an unequivocal perception of the depth of our speak. Still, I remember the lemons. I have been with the boulder that cannot continue and have been with a fruitless feast when I'd starve my lips of yours.
Real love, is lonely; and you must change your life.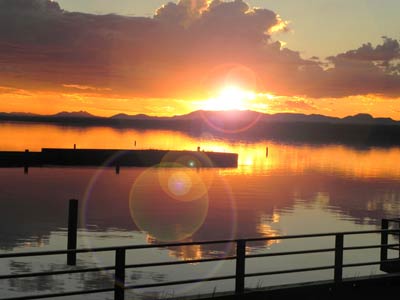 © Kellie K., Milford, OH