Dean
April 22, 2020
She looked at him from afar, smiling to herself. His dark hair was perfect. He had an honors interview today. "When your entire world shatters, that's just your cocoon breaking. Let your wings dry and you will soon fly, Butterfly." Zaza said to no one in particular. Nashlyn just laughed.

"No wonder you don't talk!" She teased, "We were talking about how obvious it is that you like that jacket, and you're lost in your deep philosophy!"

Zaza reddened, "I do like this jacket. Sorry, I didn't hear a thing you said before."

Nashlyn continued teasing her," Be thankful Dionna didn't hear you say that,you'd never get any peace! Just because you're nerdier than the rest of us doesn't mean you have to be weirder than the rest of us."

Zaza laughed," what fun would that be?"

Nashlyn looked slyly to where Zaza was staring,"He would agree with you. He reads as much as you do, and has a slightly bigger vocabulary. He would probably love to be weird with you!"

Zaza blushed deeper, "I am offended! I have a much larger vocabulary! Besides, he can't see any girl besides Hannah's lackey, Allison."

Nashlyn frowned and glanced at her phone."I've got to go. Talk to him! You'll be surprised at what you find."

"Huh?" Zaza cocked her head, then shook it. Nobody could be vague like Nash. Zaza walked to her locker, three down from his. He came to his locker, and she could hear his music. A song she knew well. Humming along, she grabbed her stuff and slammed her locker.

He stopped the music right before the chorus. Zaza didn't notice and sang the chorus full force. He froze and turned to her. "You know this song?" ,he grinned.

Zaza blushed when he spoke, "Yea, this artist is one of my favorites. Her song, "True Light" is one of my favorites."

"Cool, my name is Dean. Zaza, right?" he asked.

"Yeah,I know. We have five classes together." she said.

"I know." he took a deep breath, "Do you want to go out with me?"

Zaza felt like her face was on fire and she was grinning like a fool,"Sure, how about video games at my place?"
"Sounds great!" Dean looked relieved.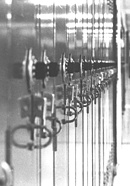 © Megan G., Rochester, MA