Streaks of Fire
June 30, 2016
Before I met you, I hadn't put much thought into anything. I was a good little kid with a rowdy younger brother. I went to school from nine to three whenever I was supposed to, I did all my homework, I studied for tests, and I enjoyed it.
I liked the idea that I would eventually become a doctor or lawyer or engineer, a happy, productive member of society.
Then I was exposed to a whole new world. You did not see me the way everyone else did, but the way people should have. You saw me for a real human being.
We quickly became best friends. Before you left, we were the kind of friends that spent summers on my porch swing, greedily licking half-melted popsicles, neither person having to speak to the other in order to explain their feelings of bliss.
Before you left, you taught me about the sunrise. It was about two weeks into our newly discovered friendship.
We sat on my porch swing, like we had gotten accustomed to. It was 5:38 AM, and we were staring down the street at the stretch of sky that wasn't concealed by treetops.
The horizon glowed faintly with the hope of a new day. The sparkle in your eyes matched the slow spread of color as it diffused into the bland atmosphere, much like a drop of ink in pure water.
Since that one hour we spent together on my porch, observing the distant horizon in a speechless awe, I thought a lot about sunrises.
I documented the sunrises sometimes, recording what they looked like on important days of my life.
On the last day of third grade, it was composed of quick flashes of gold and blue.
On my tenth birthday, the sun took much longer to grace the heavens, as if it were still drowsy from its nap. That day was an ordinary one, a bit of a disappointment, until eight PM, when my mom emerged from the kitchen with a beautiful cake.
On the day that my grandfather died, the sky was lit on fire, all pink and orange and salmon. I remember thinking it was going to be a great day, one filled with adventure and excitement.
I remember my dad crying at his desk, my mom trying to comfort him. I remember crying because of my dad's sudden weakness. He had never cried in front of us, and I remember thinking that the world was going to end.

It was 5:27 AM on another seemingly perfect summer morning. The air was warm and dry, but early morning breezes soothed our skin as we awaited the sun.
We disagreed on something. It seemed trivial to me, but apparently it meant a lot. That was when you officially decided you were sick of me.
The porch swing creaked as you stood up indignantly. The steps groaned as you walked down them. Your front door slammed shut.
With nothing else to do, I refocused on the pale gray sky.

At 5:32 AM,
on the day that you left,
the horizon was streaked with pink and orange.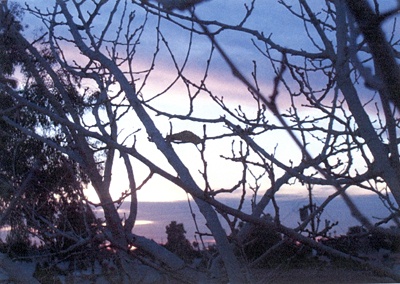 © Delia R.,Phoenix, AZ