The Death of Life (Also Called Skylar Swift)
March 26, 2016
When I received news of Skylar's death, my first reaction was utter disbelief. Sky, and death? "Of course not, don't be silly," she would have said. One would have thought that she did not believe in the idea of death at all. In fact, she had no care for endings of any kind, sad or otherwise. For her, life could never be stopped or subdued.
Sky was the most alive, most vivacious creature ever. Nothing, not even the fluttering butterfly or darting silver fish, could ever compare with her for that. She was an exaggerated embodiment of life itself. She treated her whole life as an exciting experiment, an endless adventure, a perpetual fantasy. And no one could ever disagree with her. For that kind of a life to come to an end was unimaginable, unfathomable.
'Predictability' was the antonym for Skylar, as was 'boring'. She did nothing routinely, not even sleeping or school. She did not believe in bucket lists to put off what you want, only in following her impulses. You could find her in a library researching shipbuilding one day, and trying to knit a sweater, another. She might start learning some south-Asian language from an app, or try to break a world record of twisting forks through psychic powers. As most of her friends, including myself, know, with Sky, anything can happen.
Sky's personality did not mean that she was permanently happy or cheerful. She had her mood swings, maybe even more frequently than other teens. Like all brilliant, rebellious and unorthodox kids, she too, had over-conscious, demotivating parents who wanted nothing more or less than a normal, orderly and perfect child, who ate broccoli without a fuss and did homework every afternoon. If the child was interested in calligraphy, then it was a bonus.
Anyways, they failed to understand Sky's ever-changing habits and idiosyncrasies. For them, she was like a family embarrassment, the black sheep. They didn't like telling their VVIP guests that their daughter had gone paragliding off the highest cliff in the state (although I doubt if they'd know). I don't mean to say that I, or for that matter, any of her friends, truly understood Sky, but we knew that was the way she was, and accepted and loved her.
For a person as awesome as Sky, to have died such an ordinary death as a car accident, felt a bit. . . well, disappointing. I don't know if I had ever imagined her dying in some fantastic manner, like getting eaten by a mountain lion. I had probably never even thought about it. But then, maybe it isn't even possible for someone like Sky to ever die. Because the more I think about her, the more I am convinced that she isn't dead, just not here as a person anymore. As for me, bits and pieces of Sky everywhere- in everyone, everything and everyplace. I see her like a flexagon with different sides, both seen and unseen, visible and hidden. And I delve deeper and deeper into the mystery that is, was and will be Skylar Swift, only to be sure that there is no beginning, no middle and no end to it. . .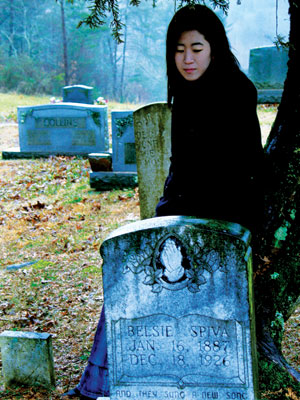 © Michelle B., Blairsville, GA