The Mouse and The Paper Tiger
September 30, 2015
Crisis, I feel, is defined by flaw, an endless entity, limited only by self realisation.
The bruise on his face could be spotted from a mile. It was a bad delivery on my part. There was a clear mark of a punch and if one could put aside the gravity of the situation, he was actually looking funny with a ginger like swollen face and a black eye sitting like a topping over it. It would be impossible to bluff the teacher and his parents. I had clearly bitten off more than I could chew. Well.
Actually, he had always taken the comments and bullying so quietly that it became the fuel for us to become bolder. His different appearance was the initiation and then it became entertainment without any thought, time or excuse. He had a good frame with strong hands, and  I knew that he was the district swimmer yet his meekness surprised me initially. Perhaps it had to do with his change of section two years ago. It was rumoured that there had been a fight involving him in the school bus. Hardly a surprise in Delhi heat, when we are packed like potatoes in school buses, armoured with empty water bottles, parched lips, surrounded by the sweaty smell which may be ours or the three other bodies in contact, every action becomes inflammable. Anyway another boy was hospitalised. Our hero got to keep the school with a change of section, a warning and an apology in writing from him and his parents. Enough ammo to cripple a sumo wrestler. Whatever the reason, it was his call. We couldn't be helped for the lack of entertainment and I was addicted to the crowd applause after a good pun.
But today was a different day and it had decided to surprise me. The class had just settled after the morning assembly and our Humpty Dumpty class teacher would take another fifteen minutes to climb to the third floor. She would then predictably proceed to dump her register on the table and cry out in a bewildering tone, "Class, you are making noise?! And to think that I have just climbed three floors to teach you such an exhaustive topic!". She would then draw out the book and start reading the chemistry chapter in a monotone that would shame Roman torture techniques.
I saw my chance in the fifteen minutes. He was having an animated discussion with a fellow about some car he had seen on the road. I had meant to shove him only a little as I picked on him, "So you also have opinions!". He was perhaps standing on one leg in front of the other, and so lost balance hitting his head on the table. With a lightning speed he turned around and slapped me across my face. I was stunned. The class was statued. Only his eyes dared. I couldn't accept that. With full force I threw myself on him, punching him on the face as he fell over the children and the furniture surrounding him. So much for the ginger face. He sprang back with a red and blue face and shouted,"Enough!", as if giving the perfect cue for Humpty Dumpty's entry. I had never been more glad for her presence. But the next moment I saw his face and wished otherwise. Blood was smudging his face from nowhere.
She forgot her exertion as she eyed the two of us with an open mouth. I was quick to point my finger at him. I knew she didn't like him. He was not regular with the assignments she gave us, his indifference towards them coupled with his out of the box queries questioning her solutions making her very cranky at times. Personally, I enjoyed the uncomfortable moments he gave her. She would scowl and he would have a puzzled expression on his face. Before the class could have any further entertainment at his expense, she would sternly remind him that finishing the syllabus was a priority before the exams and put all the doubts in their rightful place of a future time.
Here and now, time stood still. I started blabbering something unintelligible. In a jiffy, he  was sent to the doctor's clinic while I found myself outside the principal's office. It was an unbelievable mess I had got myself into, at a time when I took pride in being the most diplomatic student around teachers. In a few months time I would need a recommendation from my principal for a science project. What excuse could I possibly have? Had he not hit me....this was really his fault...
My train of thought was broken by his footsteps in the corridor. Ginger face's parents were hovering around him like agitated electrons around a nucleus as they disappeared into the principal's office. I waited for a century to pass by. I was surprised at the countless episodes of bullying my memory threw up as the clock ticked... From making faces in every class, to isolating him to the extent that nobody dare sit with him... never letting an opportunity to have fun at his expense pass by, even on the sports ground. I was a big cog in the wheel of the mindless mob mentality and I could not escape responsibility. The pit of my stomach revolted and I felt like throwing up. I felt scared of the cctv camera looking straight at me, through me. The facade of strength I carried was eroding with an unbelievable speed. Enough! I will confess and apologise and be man enough to face the consequences. Even if this meant to let the coveted science project go. Unburdened, I felt lighter. My legs could feel the solid floor...
He came out of the office and motioned me to follow. I could have said sorry but the word seemed ridiculously small and inappropriate. I observed him carefully as he walked to the door. I took a deep breath and started counting in reverse under my breath. "Ten, nine, eight, seven..."
"Your friend insists that but for you many of your class fellows could have been hurt in that near stampede situation." said the Principal. "I beg your pardon?", I asked stunned. The principal continued, " but I would very much like to know who created that snake scare in the class. Your class teacher entered only after this fellow had got hurt and she can't help with any details except that his first aid became her prime concern and that you were pointing towards him." The principal's gaze was too intense to bear. I felt the sickness in the pit of my stomach rising again. The principal looked at him again." Young man, your injury is grievous. I ask again. Would you like to name anyone directly or indirectly responsible for this condition of yours?" Ginger face shook his head. The principal paused, looked at him and said, "Son, I have been on this seat for sixteen years. All I can say is that you've maturity beyond your age. I greatly appreciate your earnestness in describing the mishap through extreme pain. But don't our best creations come out in pain? Well, my boy if you want to stick to your story I will put the matter to rest. It is a pleasure meeting you and hope you have a speedy recovery." Then he looked at me with all knowing intense eyes and said, "We would need a few witnesses from the class to throw more light on the matter. I am sure that will not be a problem for you and so perhaps we should be thanking you now." I squirmed in my shoes. "Entirely unnecessary", I mumbled. "I guessed so too", he said. "I am really sorry that my friend is hurt.", I said.
We walked out of the principal's office in silence. The long corridor was neatly striated into a dark and light pattern by the sun. At the end though, it was brilliantly lit. I said, "Why did you not get me punished?". He replied, "It's neither my inclination nor interest. Besides, every one needs a recommendation next year." We had reached at the end of the corridor and the sun shone brightly on both of us. I stopped and looked at him, white bandage, red cheeks and a black eye.
l asked him, "What is your interest?". He stopped, looked at me straight with one  eye and said, "My interest is to walk in the class every morning and say - Hi everybody!, and hear everybody say a hi back to me." I extended my hand. "Hi! It's a pleasure." "Same here ", he replied. As we entered the class I realised that Humpty Dumpty had just finished her class. Good, so we didn't miss anything. I picked my school bag and made way to his seat. "Mind if I sit here?" With one good eye sparkling, he smiled.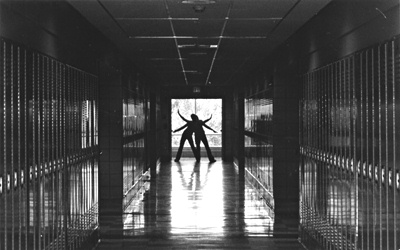 © Sheera G., Marblehead, MA