The Visitor
July 16, 2015
Arriving down the gravel path, a visitor came to stay one day. Putting one foot in front of the other in uncomfortable shoes. Mum didn't like her walking on the polished wood floor and Nan said she was bad luck; that it would catch. They weren't allowed to talk to her, but they could hear her footsteps, in the hall, thudding along like a broken clock. Her legs were made of bandages and once, when they were walking where they oughtn't, they saw them being changed. The smell was worse than the sight though. Like something rotting, dying. It was the same as the pigeon that the cat had got at. Ointment didn't fix it. It couldn't, Nan reckoned. Between knit-stitches and cups of tea, when the young ones like Bea were supposed to be sleeping, Nan and Mum discussed her. Was there somewhere they could put her? A place to go? They sighed. There wasn't.
When the moon was a feather on the bay and she didn't need the light, Bea would visit the visitor. The first time she saw the visitor since her arrival, it was an accident. The storm outside was tearing into the sky and Bea was afraid. Down the dark corridor she'd run, to her sister's room, her Mum, her Nan. Their rooms were shrouded in untrustworthy darkness. It swirled and snapped around her. Stock still in the middle of the corridor, Bea stood scared like a hunted thing caught in the shadows. Light flashed in a scrap at the end corridor. The visitor's room. Bea followed the fragmented light, away from the shadows. She was sitting upright in bed reading. The curtains were wide open; the jaws of the storm were plain to see. Bea marvelled at her bravery. "They left the door open for air, because the window had to be shut." The visitor's face was shaped like an upside down raindrop with small round spectacles that bridged her eyes together with lank brown hair in a tangle. Standing, the visitor had seemed ungainly, moving awkwardly, staring at the floor as they stared at the bandages. Here, nested with her book and her patchwork blanket she reminded Bea of the creatures found in seashells, out of place in some settings, but entirely in her element in her own world. Her eyes flying with the words on the page, she had a kind of happiness, a kind of freedom that could never be taken away. Another shake of tinny lightning rattled the room, clearing away the shadows. Bea curled her toes into the grooves of the floorboards so she wouldn't fade away. Turning a dial on her old-fashioned lamp, the visitor summoned a spot of sunlight for Bea. "It's alright, that lightning is actually far away. We can see it from miles away because it's reflecting on the sea." " Really?" Bea unhinged her hands from the doorframe. No one had ever told Bea not to fear lightning. One almighty rumble later, and the storm dried out.
Bea brought her sea shells with bright patterns and strange shapes that caught the light on her windowsill. "They sent me to the sea," said Emmy, the visitor one day. "They thought it would help me get better, they tried honey before that. And ointment after." With her eyes Emmy searched the beach for the rock pools. Wells of the ocean at edge of the sand, full of fish, salt and seaweed. A small, safe harbour, a miniature world. "I hope you get better soon Emmy." Snap. Reality, crashing through the calm, as it always did, in waves instead of ripples. "Thank you."
One day, Emmy did a vanishing act. The door to her room was wide open and the stink of bleach wafted through the house. Brimming with silence, her empty room was now a chapel of disinfected white. 'Why' was a word still starchy with newness for Bea. It was as tentative as a butterfly and as clumsy as an elephant. Emmy never minded questions but, like Emmy it was unwelcome in the house. "Why'd Emmy leave?" Nan rested her knitting on her knee. "She moved on."
Just like that, they had got rid of Emmy. Mum and Nan breathed relieved sighs. Now, they could get on with life. Bea couldn't get rid of Emmy, though. Wondering and missing were two things she got good at. What, when, where, why were the things she wanted to know now. But she didn't and she wouldn't, Bea reckoned, ever know what really happened. One thing she did know though, they hadn't gotten rid of Emmy completely.
Cardboard was left. Under a crooked plank that didn't quite fit. A box with E. K. Carter stamped on, cramped with the spider webs. She left her treasures, a book and a seashell, a spark of joy and a relic of the world. A box of Emmy. On a scrappy bit of paper she'd written Change comes in waves, but memory ripples: These are the seeds of memory, sow them if you will.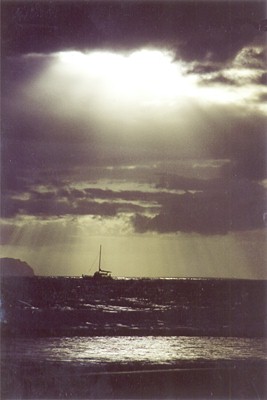 © lily H., Kekaha, HI