Star Athlete
July 1, 2015
Just one more set Ed. You can do it. We can win finals tomorrow. I encouraged myself through my last of ten sets of sprints. My name is Edward Thomason, and I have been the star athlete at my school for the past four years. Soccer has been my life for as long as I could remember. For at least six times a week, you could find me at the fields training. Not only do I have a passion for soccer; science and math intigues me. Within these past four years, I have scored sixty goals for my team. I even starred in our local news paper and newscast. My freshman year, I started over all the seniors. I have been working up to this last state championship all my life. If I win state, I get to go UNC Chapel Hill on full ride scholarship to play the sport I love.
Most athletes ask me how I do it. How I manage to go our once or twice a day, every day, to train. Most athletes would be burnt out, but not me. I ask them how do they just naturally breathe. Soccer has been my life ever since I was five years old. Having two parents that played the game influenced me to become the best athlete I could ever be. My whole family played; not playing is like not eating at my grandma's house, not acceptable. When I was three, my parents taught me how to kick the ball, and that is when I completely fell in love with the game. With state only being one day away, I have the pressure of the whole school on me. Although they say no pressure, I can feel it within my bones.
No need to be nervous; this is just like any other game. The UNC coach is sitting in the stands. I can feel his eyes on me. I try to tell myself not to be nervous as I warm my team up for this challenging game. We haven't lost a game in two years; neither have they. Lost in my thoughts, the referee finally called for captains. I lost the toss, so we had kick off. Let the game began! The game was even out. We both had the same amount of chances and plays. I felt like we could have been playing a lot better, but I also knew the boys were nervous. Blowing the whistle, both teams left the field tied zero-zero.
Coach was pissed. When I say pissed, I mean so angry he could bite someone's sweaty head off. He said we were playing as if we already won the game. He claimed if he didn't step it up, we would run until we puke what we ate yesterday. With that being said, we played the second half as we had a torch under all of our butts. We had so many chances, but this keeper was brillant. I looked at the clock only two minutes left. My teammate passes me the perfect ball, and I took the shot..GOAL!! I should be happy right? Well, when I shot the goal, I landed funny. I tore every ligament in my knee. I completely blew it out. All I remember was screaming in pain, and the trainer telling me I can never play again.
That night was the last night of my soccer careeer. Yes, my heart was torn into billions of pieces, and I grieved. I picked myself back up and went to Vanderbilt University on an academic scholarship. I wasn't the star student, but I was a good one. I may not be a super star, but I refuse to let my life slip out of my hands. Now, I'm on my way into becoming an orthopedic surgeon to help athletes like me. Sometimes I wonder who I would be without my injury, but then I realize I would not have had this opportunity. Things change suddenly,and you have to learn to embrace it. Stop living in the past and live in the future. Everyone has a story, but you have to made your own ending. It's up to you to persevere and fight for yourself. Be your own superstar.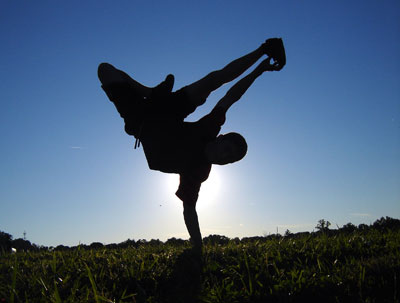 © Seita O., Louisville, KY