Black Holes
April 30, 2015
He was a force of nature. A catalyst, an enforcer. He knew all the right things, spoke all the right words, experimented with all the right results. He swallowed corporations, countries, entire continents, sparing a bit more in his stomach for a mug of coffee on a misty Vancouver morning.
Though he knew. Nobody would suspect it, but he did. There was something maniacal in the curve of his jaw, the scar on his back from the time Lydia jabbed her pen knife in a scuffle. Some nights he'd tear the Versace away, wash off the five hundred dollar perfume, slip grandfather's gold Rolex off his gnarled wrists—and stare into the mirror.
Kafka would be appalled, Lydia would say. He could still feel her lips on his, carrot hair curling around his fingers. Filling the gaps twenty three years of keyboard tapping and sweaty palms at board meetings left them with. You're hollow, John. And I've always been overflowing with soul. She said, during one of their more peaceful arguments. You act like the world would collapse without you. Like you're God. But you mean nothing, behind your wealth. You're a black hole, John. And I'm the star on your event horizon.
Perhaps it was my mistake for stepping this close.
He stared at the mirror for hours a day, pondering his partners' words. The pills always stood an inch away on the vanity, calling him. Perhaps, he thought. Perhaps.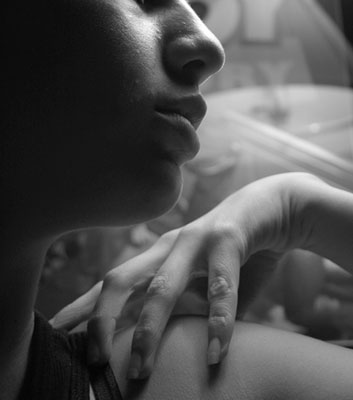 © Rebecca B., Santa Clara, CA