Sincerley, Child Soldier
January 13, 2015
His eyes, drowned in madness. They didnt even twitch when future death bolted from his hands and into my skull. A boy, young enough to be laying by his mtoher, shaking from a bad dream. Only none of this was ever a bad dream, it has always been much more. I had seen death more than I ate since I was nine years old. I was the oldest son my mother had and after that night, in some time cold, I was her only son. Its impossible to dismiss the texture of the heavy murderous weapon that was handed to me along with the barks and hisses ordering me to do it.
I never should have done it.
I cant belive I did it.
I shouldve let myself die, I shouldve let them kill me.
But I didnt, I didnt let them kill me because I looked. I say my mothers face, pain dripping down her sitting cheeks with hair hiding behind her face and eyes trying to run and save what they were about to see and she nodded, she told me to do it and maybe I still had a chance. Then she whispered, "I love you." just loud enough for only my ears to catch and then it was over. Without a goodbye or a wave or a kiss, it was done. I left, tucking away my innocence where no one would find it, not even me, For two years I told myself I would get away, I would get that chance my mother spoke of. I never got and I never gave it, I took it. I turned into the man handing the boy a heavy murderous weapon, I barked and hissed for boys to do as I did and I watched boys mothers whisper whispers for only a boys ear to catch.
Then I was the one whispering whispers, only no ears where there to catch them because it was only me and madness that didnt even twitch when he took what I had been taking from little boys like I once was.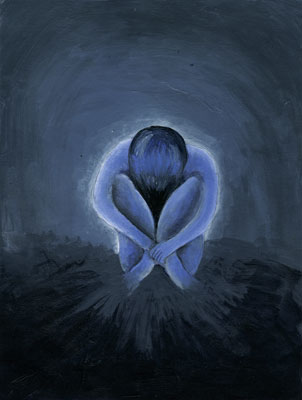 © Becky F., Sacramento, CA