The Red Door
November 1, 2014
I remember the day he brought it home, that crazy red door he found on the side of the road. It was in perfect condition, shiny red paint and a small stain-glass window. But for some reason it was left on the lawn with a "free" sign attached.
Carl was ecstatic, "Look what I found, Louise! This is a sign from heaven, we're supposed to buy that farmland and build a house."
I laughed and continued stirring the eggs, "How in the world does that door mean you're supposed to build a house? And what are we going to do with a bright red door?"
"Put it in our new house, it will be front and center. We'll have a white house with black trim and this beautiful red door. Can't you see it, Louise?" Carl grabbed my hand and spun me around. "We'll fill the house with kids and build a barn for a cow and pony. What shall we call our farm?"
"You can call it Redneck Farm and get all our furniture off the street," I leaned in for a kiss.
"How about just Red Farm? I'm going to get the loan today. You'll see, Louise, we're going to be the happiest people on earth."
"I already am," I smiled and turned back to the eggs. Life was an adventure then, everything was uncertain and exciting.
Over the next five years, Carl built a beautiful home. It had five bedrooms and a big kitchen that had a direct view to the front door. The red door. Everyday, Carl would come in through that door after working the land. At first I was the only one to greet him, but more and more came.
First a baby girl grew up and ran to his waiting arms. Then came two boys, begging him to play catch before the sun set. One more girl, she always waited by the window so she could hug him first. And I was always there, waiting for the kids to scatter so I could get my hug.
"How's the door looking today?" He would ask.
"Much better now that you're here."
By the time our last baby was born, Carl had built a huge red barn to go with the red door, as he always said. "We need something to match the door, otherwise it doesn't really belong."
We had a cow, a horse, two goats, and a couple chickens. Carl was always optimistic, even when the money was tight. "Don't worry, Louise. Just remember what we started with, only a red door to our name. Whatever happens, we're going to be okay."
The kids grew up and left, one by one. But Carl was always there, coming through the red door day after day. And then there was that day.
Dinner was getting cold and Carl hadn't been late in years. I paced in the foyer by the front door, wondering if I should go look for him. I went to get my coat, but stopped when I heard knocking. I opened the door, Carl's precious red door, and collapsed.
Four policemen were standing there, and behind them was Carl. But there was no smile this time, no gentle hug or quiet words. Carl's shirt was no longer blue, it matched the door now. One of the officers stepped forward, but I never heard what he said. Carl was dead. I was dead.
I didn't leave the house for weeks after the funeral. Partially because I didn't want to see anyone, but mostly because I couldn't bear the sight of that door. Finally, my sons came home and put on a black door. They left the red door in the red barn, and I wouldn't go in there for years.
A decade passed, and I only occasionally thought about the red door. I tried to think about Carl, but it hurt too much. Over the years, we slowly lost everything Carl had worked for. The animals went first, then the land, and finally the house.
A week before the foreclosure, a huge storm came up and knocked the barn flat. I walked out to assess the damage. Everything was destroyed, except for one thing. A sunbeam shone down on the red door, making a rainbow from the stain-glass window.
I knelt in the grass and sobbed. I could almost hear Carl saying, "Remember what we started with, Louise? Nothing but that red door. If we lose everything, we're going to be okay. Just hang in there."
"But there is no 'we' anymore!" I shouted to the heavens. "I'm not okay, not without you." I walked over the debris, staring at the door. Then, I looked up into the sunshine and whispered, "I'm coming, Carl."
I pulled the gun out of my pocket. I didn't think about my children, or Carl's limp body, or the people that would find me. I thought about Carl's face when he first brought the red door. And I pulled the trigger.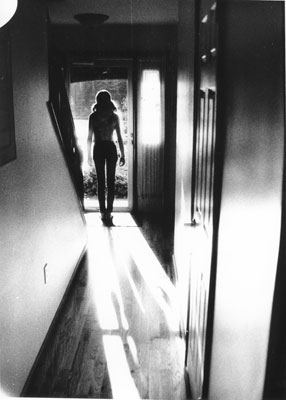 © Mike V., Morgantown, PA