Friday, August 13th, 2049
June 13, 2014
8 hours into my 48 hour shift at the hospital my wife, Genevieve, pulled me into an on call room for what I thought was round 2. I didn't realize it wasn't until we were on the bed and she told me to promise not to freak out, so of course I freaked out. She said she hadn't known for very long, just enough time to have her first appointment. Cancer was the first thing I could think of, as I knew her family was prone to it. Or maybe she had renal failure. Or heart failure. A million things ran through my mind but nothing my brain came up with prepared me for her silent explanation. She shushed my worried cries and pulled out the most beautiful and horrifying thing I think I had ever seen. It was something I hadn't seen in almost 15 years, something sh-we'd been hoping for, praying for, for so long: a scrawny stick with a little pink plus sign. But I felt no joy. No sweet sigh of relief like I had felt when I had seen it before on my own 2 sticks.

We had been at the end of our rope, ready to give up, and I had finally accepted that our dreams of becoming parents again were over. I was sad for her, of course- I had carried the first two after all- yet I was selfishly grateful; I knew that at 52 years of age I had no business having another child. I wasn't sure I- we- could even handle a new baby, especially with our increasingly long hours. I was so close to making a break through on my clinical trial, was I supposed to give it all up to stay at home and help? I felt angry and hurt like the universe purposefully gave me what was supposed to be a blessing at such an awful time. Why now? I knew I should have said something, anything, but I had nothing. No words could describe the bittersweet balancing act between happy and sad that was taking over my mind and heart.

So I just left. As I shut the door I could almost hear her start to sob.

I needed to breathe, to let off some steam, so I scoured the 4th floor for any easy surgeries that I could have scrubbed in on. I settled on an appendectomy, a basic first year surger as I wasn't even supposed to be cutting since my switch to psych. But I needed to get some blood on my hands and Lennie was just happy to see me again.

"You know, many people consider Friday the 13th to be most unlucky, but not I. And did you know today also happens to be a full moon? A coincidence like this hasn't occurred in 35 years! Wonderful, if you ask me..." That's where I stopped listening. His words had hit me like a straight shot of vodka. Had it truly been 35 years since I sat in my father's living room in the middle of summer contemplating ending my life? Suddenly, having another child didn't seem so bad. I had gone to Hell and back and yet here I was, a successful doctor with a beautiful wife, and 2 glorious children. I had become everything I had ever imagined, achieved every goal I ever set, yet I realized somehow Geni's dreams got pushed aside and I knew then that I owed it to her to be ready again.

So, I gave my place to an eager resident, thanked Lennie wholeheartedly for giving me the most amazing last surgery (even if it was only an appy), and set out to find my sweet Geni determined to celebrate with round 2.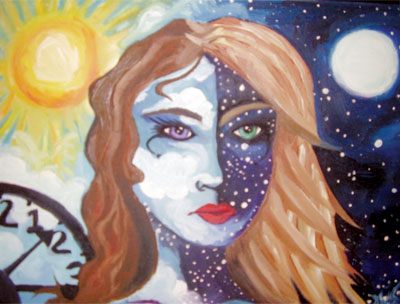 © Amanda S., Attleboro, MA