She Insisted
February 4, 2014
When we were seven, we wore our hair in pigtails with rainbow ribbons. We got frightened whenever we thought we saw a ghost. We played on the swings, had long talks about what to ask Santa Clause for, and were very loud all the time. Every Wednesday, at exactly 7:30, she would come to my house and eat the mouth-watering lasagna my mom made especially for us.

"You are my special jelly-bean", she would always tell me, looking down at me with those huge almond colored eyes and smiling wide with her big cherry lips I wished I had. She would pretend to eat me, grabbing an imaginary spoon and taking one big bite of my face. I would laugh hysterically, screaming playfully "Stop Leah, stop!", and we would both crumple to the ground in insane giggles.

When we were ten, we pushed each other towards the boy we had a crush on and listened to Taylor Swift, singing our hearts out in Leah's living room. We tried to do our make-up like the models we admired in magazines, but ended up looking a lot more like my eccentric aunt that terrified us when she looked us right in the eye.

Leah and I were best friends, like lightning and thunder, once you saw one of us it was certain that the other wouldn't tardy to appear.

Now we're thirteen. Peeking in from the slightly ajar door in her hospital room, I thought my eyes were lying. Leah's skin is a faded mixture of grey and purple as if her whole body were full of bruises. Her arms and legs are as thin as my innocence that disappears echoing the calendar, and her neck bones protrude. She's staring at a wall, a look that says her skies are dull, and her energy and happiness are lower than the ground. Deep, dark circles surround her almond eyes. Even the huge cherry lips I loved were now covered by the purplish monster that is overriding her entire body. Six months ago she insisted she was fat. She insisted on stop eating. She insisted... even though I told her she had the body I yearned to have. My best friend, my twin sister, my soul mate... she was weak and she was dying.

She hadn't seen me glancing. Her tired gaze was set on the faded orange wall on the other side of that loathsome hospital room. Plastic tubes entered her nostrils and penetrated her arm. I cringed. Something inside of me was starting to grow, some creature that hurt my heart and crumpled it until it felt like I couldn't breathe. Guilt. I had left my Leah.

But then I couldn't help it anymore. I yelled the name of the person I would always love, the person I could always know that was there. I yelled it loud "Leah!" And she turned her head my way, lifting it a bit from the white and flat hospital pillow. That monster had her I could tell, for her face was deflated like a balloon that had once been up in the blue skies. Our eyes locked and we stared at each other. And I saw, in those almond eyes that had survived the attack of the monster, I saw the little girl with rainbow ribbons. The girl who was always cheerful. She was still there. Somewhere, behind that shadow that had torn us apart, that girl lived. I just had to get to her.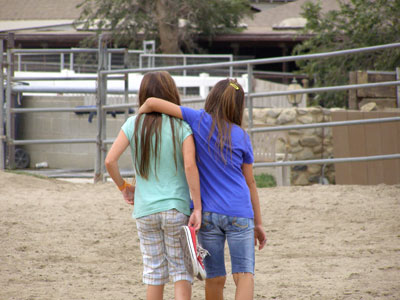 © Austin K., Studio City, CA