Finally a Fairy Tale
May 14, 2013
Once upon a time, a long time ago, in a not-so-exotic land, you and I were in a fairy tale. You were there when we, holding hands, took our first steps. Our moms looked on while grabbing the camera off the shelf, ready to document another chapter of our lives in the family photo albums.
Do you remember? We would play together, hours on end. House, Superheroes, Wild West, Store, whatever sprung from our toddler minds, really. One time I got you to play Princess with me. I was Rapunzel, you were the prince. Remember how I fell out of the tree that was the 'tower?' and how my hair wasn't long enough to touch the ground? And the time we played Spiderman we discovered that you couldn't actually scale walls.
As we got older, a Lego empire thrived in your bedroom. Every time I would come to play, I would ask about it. When you got the Lego fire station for your birthday, we couldn't contain our glee.
Biking became another pastime. We would glide down the hill near my house with our brakes on, hoping to make skid marks. Sometimes, we would go off-road, through the woods near your house.
When I was ten, my dad and uncle built me a tree house. That was our headquarters, we were spies then. Yes, we lived in a grade-school dream world, only to be shattered as we approached the looming shadow: Sixth grade.
Sixth grade began middle school, and everyone who had an older sibling knew how bad middle school was. But we would be brave.
As sixth grade wore on, we grew apart. It was 'stupid' for you to be best friends with a girl, and all the other girls that had been my friends in elementary school, rolled their eyes and called me a tomboy, for not caring about makeup and hair care products.
In seventh, I found good friends. You joined a very popular, stereotypical group known as the jocks. In middle school, everyone had to have a 'group'.
In eighth, you got your first girlfriend. She was pretty, prettier than me. I didn't have a boyfriend. Boys didn't acknowledge my existence. One day I got a note from you. It said: Hey, Lucy, let's meet up at the park. I thought you were beginning to come around, but the 'date' was awkward, you acted like it was the old days, like we had been best friends for the past three years. I spoke my mind, and for you it was an earful. We both left the park, and that was the end of that.
High school was a blur. You were popular, I wasn't. I was glad to graduate and move on, college was ahead for me.
After graduating from college, I became an architect. I wasn't sure what you had become, and I didn't really care.
I married my college boyfriend, Kevin, and we had a beautiful little girl. Thing with Kevin didn't work out as I expected, I won't elaborate, it doesn't matter.
I was in the dairy aisle at ShopRite, and I saw you again. We got to talking, you were still single, I found out, and the next thing I know we were setting up a date. We continued to date that year, and finally it happened. It was my birthday, and we were leaving the movies. You handed me a small box, and inside was a sparkly ring.
"Will you marry me?" you asked. I looked into your eyes, and the memories came flooding back.
---
"When we grow up, Lucy, are you gonna marry me?" Conner asked. They are eight and he was hanging from the monkey bars.
"Maybe," Lucy replied.
"Will you marry me?" Conner asked. It was dusk, the last night of summer break before middle school.
"I'll think about it," Lucy grinned, waving goodbye as Conner climbed into his dad's SUV.
---
"Yes." I replied, smiling.
---
I step out onto the deck.
"Mom, Conner, watch this one!" Cassie says, her body arching into a perfect dive.
"And this one!" little Clare follows Cassie into the pool with a cannonball. Conner looks over from his game of catch with David and Alexa.
"Good ones!" he says, tossing the ball to David. I stand on the deck for a moment, watching my family play. I feel my life is finally what it should be.
And we lived happily ever after.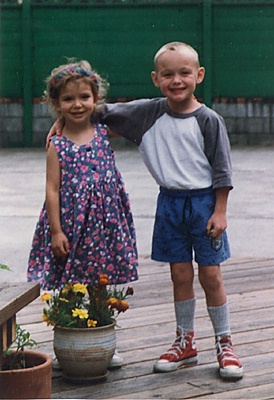 © Jacob H.,Phoenix, AZ