A Victim Of The Gun
April 7, 2013
Please. Don't call me a hero. Don't say that I am lucky. Don't allow your parents to use me as a dinner-time topic. And when you see me on the news, name and face under a heading like " Local Girl Saves School from Shooter", don't assume that I'm happy I lived, because we all lost something that day. Unfortunately for me, it was my heart.

I remember hearing the first shot during AP art. We all sat, shook shaken trembling in our desks, teachers marker poised at the board. Waiting. This period of waiting lasted a short while, and the silence spell was broken with the crackling sound of the loudspeaker. Principal Green's voice echoed around the tiny, windowless room. " this is a lock down. I repeat, dangerous personal in th-".

Second shot.

The teacher herded us like sheep into the supply closet. The 21 kids with stricken faces tumbled over numbed bodies, fighting for a place in the back. Paper and crayons shoved haphazardly to the floor. Ms. Levin closed the door, finger to her lips. We shook. Silence ate away at the tension, and for a fleeting minute we were given a present of false hope.

Then the third shot
And the fourth.
And the fifth.

Standing, pressed against Ms. Levin's arms and Emma's hip I counted 19 more shots followed by countless screams. Then,

Silence.

We heard the classroom door creak open and a girl squeaked. Hollowed footsteps brought walking death to our closet door.

Silence while the masked man turned the handle.

Silence, while lips trembled, noses ran with snot and faces quivered in hands.

Silence when he drew the gun and fired two shots.
I watched in slow motion as the bullet entered Ms. Levin's head. Watched as she thudded to the floor.

I watched in slow motion how the bullet flung itself into Emma's stomach, catapulting her backwards into a tub of markers. Watched as she placed small hands over the wound and drew them back red.

So when I turned my face back to the man, who had drew his gun on me, I decided I couldn't die. I wouldn't die. And when he said "sorry", finger on the trigger, my hand was already clasped around a clay knife, making way to its target.

And when I woke up in the hospital screaming. I felt the blood that was no longer on my hands, and searched for a heart with a now broken pulse.

So please. I am not a hero. Just another victim.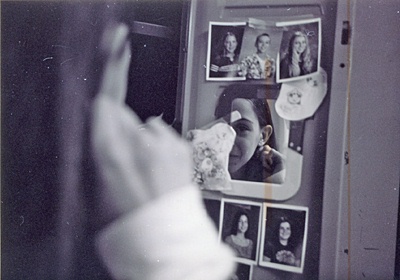 © Kaleigh W., Pompton Plains, NJ