Writer's Desk
March 1, 2013
The creaky floorboards, the rusty doorknob in the bathroom, (which made it hard to open and eventually led to my little sister Emma trapping herself inside.) and the golden carpeting in the dining room, hideous as it was, all made 129 East Avenue home.
I was wandering through the house the day my parents announced we were moving across the country. Despite the fact we were keeping most of our furniture, Mom and Dad had both declared with emphasis:
"There is no way we are keeping that desk."
The desk they had mentioned was old, probably over one hundred. Emma had always been afraid that if she applied too much pressure to it, it would collapse.
But I loved the dusty desk. I used it as my "writer's desk" because it made me feel like a real author like Louisa May Alcott or Jane Austen. When I discovered the secret compartment in the back of the desk, I was thrilled. I began keeping a diary and hiding it back there where no one could find it.
You could say I fell in love with the desk.
And I did.
I would often run my fingers along the smooth oak surface, or rustle my papers in the compartments just so I could hear my future career as a writer.
I wandered out of the guest room where the desk was kept and downstairs into the living room.
Mom, Dad, and Emma were watching TV, I'm not sure what.
Probably that new sitcom People Magazine was raving about.
"Um, excuse me, can I ask you something?" I asked. Mom grabbed the remote and muted the TV despite Emma's shriek of protest.
"Are you sure we can't keep the desk?" I said quickly.
"Well, honey, we'll see what we can do," Dad replied.
It's been a month since we put the house on the market, and the desk's fate has yet to be decided.
But it's coming with me.
I just know it.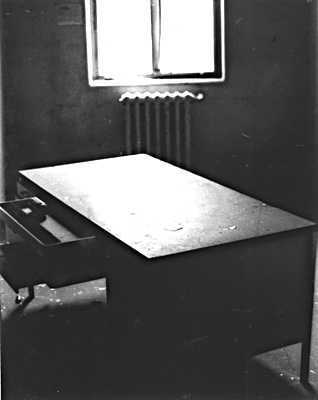 © Flynn O., Novato, CA