A Species All Her Own
March 7, 2013
July 2, 1999

"I think that there is something wrong with my brain," she said. The leather chair pulled taut at her sweaty skin, and her shorts rode up her thighs; the midsummers heat was finally kicking in.
"What do you think is wrong?" Asked the therapist. The therapist was a nice women, not to expensive, with an ironed pants suit that looked hot for the weather, but she moved with ease.
"I don't think like the others. I think different things," she said. The therapist smiled, such a young thing, she thought.
"Well, all people think differently because we are all different. No two minds think alike," Said the therapist. Her point was simple, and she hoped the girl would understand.
"I know that," she protested, " I just mean that my friends worry about their weight when they are super skinny, their hair when its raining, their mascara smudging when they swim, so they don't! They spend most of their time thinking thoughts, that ought not to be thought about."
"Well, what do you think about?" Asked the therapist. This by far wasn't her craziest session, for she once had a patient insist to sit on the floor, but it was going somewhere.
"I think about trees and birds and flowers, and I think about people, real people! Not manikins or dolls or models or anything like that. I dream. I daydream. I really NEVER stop dreaming!" By now the girl was half risen from the chair, eyes spread wide and palms clenched in passionate fists. The therapist adjusted herself in her own chair, and motioned for the girl to sit.
"Sweetie, everyone dreams at one point or another, and girls are always worrying. The best thing to do is to walk away, leave it alone. If it makes you feel better, de-face Teen Vogue or some other magazine. I'm sorry, but from the looks of it, you're fine." The girl groaned. This is the problem with shrinks, she thought, they are so damn calm. She took what her mom called "safety breaths", to calm her fire, gathered her thoughts and began again.
"I notice things," she said.
"Like what?" The therapist said.
"I can tell how long a car has been in the same parking spot, by seeing if the part underneath is dry. I roll my window down on a rainy day, and stick my hands out the window, and scream as the cold hits my skin. Then I stick my head out the window and scream, because I feel alive. I walk across bridges, even though they scare me. I know that my house is slanted, and which boards squeak, and which don't. I read people's faces, creating lives for them in my mind. I still play with my dolls, creating worlds away from this one, and i'm 13. I do things for the thrill, for the excitement and power. I compete with everyone, because I believe that God made me too be Katniss's messenger. I don't worry about my hair, or my clothes, or my nail polish or mascara or my bikini tan line. I just don't care. But somehow, that makes me different. Not normal". The therapist stared at the girl. Could so much really be going through her mind? The therapist cleared her throat, smoothed down her pants and tugged at her shirt, suddenly aware of the judgment that was coursing through the girls mind. The girl was right. The therapist was wearing an immaculate pantsuit, 4 inch heels, and had her makeup done by her daughter: the makeup artist. She had driven to work, though she could have taken the subway (for fear of sweating), and here the therapist was: telling this girl to be normal.
"Well, what is normal?" Asked the therapist.
"Boring" Said the girl.
"Not all people are boring," said the therapist.
"Not all people," agreed the girl, "but most." It was then that the therapist realized, the girl could not be strayed. The girl was one with herself. A new being in this cloned generation. The therapist knew she had to preserve her. Girls like these were hard to come by.
"Looks like the time is up. You can come see me again if you like, but really, I think you're fine. You don't need anything to change." The girl thanked the therapist, then turned on her heal, leaving the office for the first and last time. Not waiting for a sticker from the ladies behind the counter. She walked outside into the sauna they called summer. Body already sweating in the blistering sun. She began the dreaded walk to the bus, and on the way she stared at the heat waves pouring off the park in the distance. She knew she was different, but it made her special.

December 3rd, 1999

The therapist welcomed the patient, and suddenly smoothed down her shirt. The therapist had on a pair of worn down jeans, converse, her hair tucked into a messy bun. Her shirt was washed, dried and cleaned, but not ironed. Her nails free of polish and her face free of makeup. She looked out the window at the snow swirling flurries that danced outside. She noted the dry spot underneath her car, marking the hours she'd spent there. And when she finally looked back at the patient, she was ready to begin, all over again.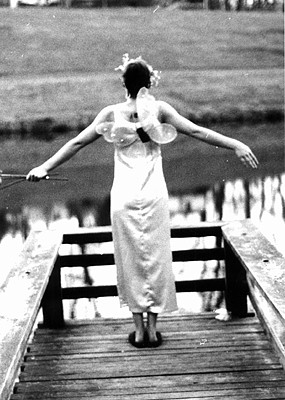 © Jennifer T., Cincinatti, OH