Sound of My Death
December 22, 2012
"Is she awake?"
"I believe so."
Their hasty voices echoed inside of my skull, sending throbbing vibrations with every syllable.
"Watch her eyes."
"Yes, sir."
The voices were louder and somehow closer. I felt warm breath caress my face.
"See the skin?"
"Yes, sir."
"Take notes."
The breath smelled sharp and pungent. The inside of my nose stung with each whiff.
"Have that down?"
"Yes, sir."
"Include the heart rate."
"Yes, sir."
I saw a flicker of bright white cross my vision. It grew bigger, blink by blink.
"Eyes open."
"Yes, sir."
There were hands and machinery attached to various parts of my body. I twitched, feeling their icy fingers and sharp nails.
"Watch the muscles. Her nerves are starting to react."
"Yes, sir."
My entire body shuddered. My eyes automatically drifted closed again, and each breath was labor in itself.
"Call a nurse!"
My fingers clenched themselves into unbreakable fists. The pungent air was gone.
"Nurse! Defibrillator!"
"Yes, sir."
The warmness on my cheek was gone. Their voices began to dissipate into the thick air.
"Nurse, go."
"Sir?"
My skull throbbed again, and my eyes were permanently shut.
I went to sleep to the sound of one long, lonesome, monotonous beep of my death.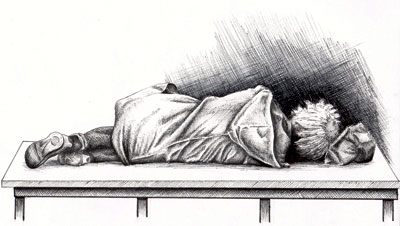 © Devin N., Sherrills Ford, NC